Latest 7 Posts
Tracking IBM Lotus technotes, hotfixes and fixpacks
Thu, May 23rd 2013

194
How developers prepare to present, they hoist their pants
Wed, May 22nd 2013

217
Connectria ranked top 2012 cloud provider ahead of Rackspace, Google and Amazon
Tue, May 21st 2013

77
Qantas now four years into migrating off Lotus Notes - will it ever end?
Mon, May 20th 2013

734
Fellowes I-Spire Series Tablet Lift (9311301) review
Mon, May 20th 2013

76
Copy.com offers 15GB free cloud storage to new accounts - link inside
Thu, May 16th 2013

173
IamLUG 2013 Keynote replay now available
Tue, May 14th 2013

169
Top 10
SmartCloud for Social Business aka LotusLive.com is changing it's domain name and adding Sametime meetings
Thu, Nov 15th 2012

2229
Classic line from Sametime wiki about Sametime Classic
Mon, Aug 29th 2011

2183
IBM Notes 9 introduces new keyboard shortcuts
Wed, Dec 19th 2012

1432
IBM Notes 9 introduces new mailbox behaviors
Fri, Dec 21st 2012

1326
Lotusphere annual Blogger Open needs a new home
Mon, Dec 3rd 2012

1137
IBM Notes and Domino 9 launches public beta
Thu, Dec 13th 2012

1020
More Free books!! Private Cloud for Dummies by IBM
Wed, Dec 19th 2012

948
IBM announces the 2013 IBM Champions for Collaboration Solutions
Tue, Dec 11th 2012

896
IBM Connect 2013 slide collection site for you
Wed, Feb 6th 2013

858
IBM Notes 9 introduces new calendaring and scheduling (C&S) back end classes
Tue, Jan 8th 2013

829
LotusAppStore launches to sell Lotus apps - my initial review
Chris Miller

I received notice about this new app store for Lotus Notes from PDQ Information Systems that launched and went to take a look. As some of you know we investigated and launched into this some time ago, and well it does flat. Vendors did not have the capability to sell this way were not willing to do so. So this came as a surprise. Here is a screenshot of how it looks today with the first listings their own products (of course)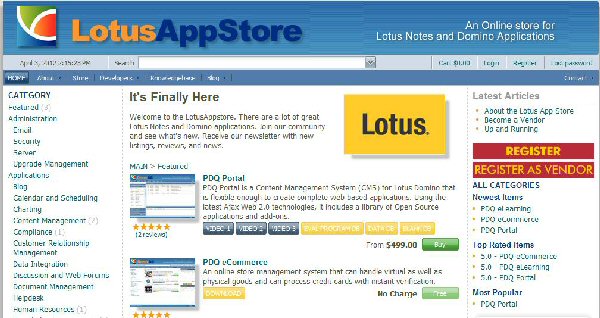 At PDQ Information systems we have been developing Lotus and Domino applications for over 20 years. As part of some work we recently did for client we added eCommerce capabilities to our CMS solution to allow for the sale of virtual goods (software, video access, etc.).

Since the Lotus community doesn't have an app store, we thought that this might be a good use for our new tool. It would give us an opportunity to keep enhancing it and it might be a way to showcase it.


The entire site is done in Ajax (who says it has to be Domino or Lotus based right) and uses the PDQ Portal product that they write. Anyone can rate a product and PayPal is the means to to process payment.

Support comes directly from the product seller so I am not sure yet how PDQ gets a cut, if any. All the legal agreements is between you and LotusAppStore, which I am not sure is a legal entity or DBA name. That is not clear.

You are able to make a public profile, but I was a bit worried about this line in their legal agreement:

By entering your Public Information, you grant LotusAppStore an irrevocable, worldwide, royalty-free, perpetual license to publicly display, transmit, copy, use and/or remove your Public Information for any legal purpose and to modify your Public Information to prevent or discontinue any potential violation of the preceding sentence

They also state that they do not hold the licenses for the products nor warranty them, yet their Default EULA states otherwise:

DEFAULT EULA. "Default EULA" means the end user license agreement terms described in this paragraph. If you purchase a license to an item of Content or download a "free" item of Content using a LotusAppStore Service, you are granted a single license to use the item of Content on a mobile device or other computer that you own or control. You may not copy, distribute, transfer, modify, rent, lease, sell, decompile, reverse engineer or create derivative works based on the Content or any portion thereof without the express written consent of LotusAppStore or the owner of such Content


Interesting that their legal agreement says you must "opt-in" for mailings yet the registration says you are already going to get them unless you "opt-out"

There is an entire section on becoming a vendor which I might dig into later. I did note that they use Paypal but then it asks for PayPal for yourself in the vendor registration for monthly payments. It is stated that LotusAppStore may offer your product up to a 20% discount on their own volition.

They are also following the model of the Apple store by giving you 70% of Net Receipts and they keep the other 30% after taxes, fees and other stuff as listed in the agreement.

Revenue Sharing and Payments. For each item of Content licensed to Customers by LotusAppStore through Standard Channels, Content Provider shall earn 70% of Net Receipts.


In essence I presume this is another attempt but that is a very open agreement for anyone to enter into as buyer or vendor at this time.

---------------------
http://www.idonotes.com/IdoNotes/idonotes.nsf/dx/lotusappstore-launches-to-sell-lotus-apps.htm
Apr 03, 2012
183 hits




Recent Blog Posts
194



Tracking IBM Lotus technotes, hotfixes and fixpacks
Thu, May 23rd 2013 11:45a Chris Miller
It has always been hard to track the growing list of technotes, fixpacks, hotfixes and SPR's that IBM Lotus collaboration software has. Over the years I have made my own tools: Lotus Support Mega Feed sidebar widget Lotus Tech Documents feed on Twitter using Yahoo Pipes Blogger and technical search widget right from inside your client SNAPPS and IdoNotes enhanced search plug-in for Lotus Notes So as you see it has evolved over the years as the material to collect grows and the capabiliti [read] Keywords: collaboration domino ibm ldd lotus notes blogger twitter widget
217



How developers prepare to present, they hoist their pants
Wed, May 22nd 2013 10:18a Chris Miller
From IamLUG 2013 comes Kathy Brown and Troy Reimer of PSC Group in this little gem of a picture I wanted to make sure made it out of the photo streams. They jointly did a great presentation on Don't Roll Your Own, Integrate..Collaborate On the Ground and in the Clouds. However, their simultaneous prep was too funny [read] Keywords:
77



Connectria ranked top 2012 cloud provider ahead of Rackspace, Google and Amazon
Tue, May 21st 2013 8:14a Chris Miller
Connectria is happy to announce we were ranked the number one cloud provider in response time and availability aggregated for 2012 by CloudSleuth.net ahead of Rackspace, Google and Amazon. From Sys-Con: Connectria Hosting, a global managed and cloud hosting provider with cloud data centers in St. Louis, Philadelphia and Dallas, has been recognized as the 2012 Top U.S. Cloud Provider as reported by ReadWrite.com. Connectria's Cloud received the highest overall ranking when measured by av [read] Keywords: lotus google
734



Qantas now four years into migrating off Lotus Notes - will it ever end?
Mon, May 20th 2013 1:27p Chris Miller
Qantas is in another article about migrating off of Lotus Notes. Now into their fourth year it appears to me they didn't understand how deeply integrated Notes was in their environment for daily operations according to a Delimiter article. While they finished moving email users in 2012, the applications are taking their toll. The nation's largest airline Qantas has revealed that it's still in the process of migrating its corporate email platform off IBM's Lotus Notes/Domino [read] Keywords: domino ibm lotus notes applications email exchange exchange google microsoft office outlook
76



Fellowes I-Spire Series Tablet Lift (9311301) review
Mon, May 20th 2013 11:03a Chris Miller
The Fellowes I-Spire Series Tablet Lift (model 9311301) is a one piece stand for your tablets, phones and other devices that do not exceed 1/2" thick. It will support the iPad, Samsung Galaxy, Kindle and more in both landscape and portrait modes. I found it handy for setting the iPad almost level with my monitor to provide another screen, as shown in the video. It was stable and did not have the bounce I expected when first opening the box and seeing the Fellowes I-Spire Series Tablet Lift. [read] Keywords:
173



Copy.com offers 15GB free cloud storage to new accounts - link inside
Thu, May 16th 2013 12:06p Chris Miller
I have been using Copy.com as an alternative to Dropbox for splitting work and personal storage. Right now Copy.com is offering 15GB free cloud storage for new accounts. The performance of the service on Copy.com has been great. Upload speeds have been quick and folder management easy. I am waiting on their mobile apps to be released to make it even better. All the sites offer different upgrades and enhancements like password protection of files, expiring shared links, and more. So why d [read] Keywords: mobile password
169



IamLUG 2013 Keynote replay now available
Tue, May 14th 2013 10:03a Chris Miller
The IamLUG 2013 keynote with Louis Richardson of IBM and Kirk Bowman of Zipline is now available for replay on YouTube. Louis is an excellent storyteller and social whisperer that draws you in covering creative ideas. Kirk follows with making good social choices. This is an excellent keynote for technical and managers alike. Subscribe to all of the Spiked Studio / IdoNotes shows on YouTube. You can also subscribe to the keynote playlist and catch up on may user group keynote events. [read] Keywords: ibm





729



Choosing between Notes 9.0 Social Edition and Microsoft Outlook 2013 - White Paper
Mon, May 13th 2013 10:15a Chris Miller
IBM has released a white paper titled Choosing between Notes 9.0 Social Edition and Microsoft Outlook 2013 from the IBM Software Group Competitive Project Office. For the most part, both IBM Notes and Microsoft Outlook perform well when handling typical email, calendaring, and contact management tasks. But when we step beyond those standard Personal Information Management (PIM) tasks, IBM Notes really starts to shine. It all starts with Notes' renowned security, customizability, and distr [read] Keywords: calendaring domino ibm notes application eclipse email microsoft office outlook security
232



IBM.com Connections servers gets it first spammer
Sat, May 4th 2013 11:19p Chris Miller
A large number of us received some spam notices from the IBM.com Connections server this past week. I was surprised to see this enter my stream and send my email notifications from the main IBM Connections environment: naomi bashir posted a message to you: naomi bashir Hello dear new friend, My name is Naomi Bashir a good looking girl.I have a special reason of contacting you which i will make known to you, Please write to my email address box: (bashirnaomi@yahoo.com)so that I will tell you [read] Keywords: connections ibm lotus email server
233



IamLUG 2013 streaming keynote and more slots opened to register!
Thu, May 2nd 2013 1:45p Chris Miller
IamLUG 2013 will be live streaming the keynote on the IamLUG channel on uStream. There are also new slots open to attend! Link to the live streaming blog post Link to the IamLUG uStream channel Additional slots have opened for IamLUG due to some late sponsor additions and a couple cancellations. If you have been debating coming to IamLUG 2013, for some strange reason, then grab one of the spots now. Two days of free event followed by TackItOn (optional) deep tech training from Teamstudio [read] Keywords: