Latest 7 Posts
DE Lipstick Style 2600mAH PowerBank with flashlight review
Fri, Dec 19th 2014

160
IBM ConnectED 2015 - my sessions and the agenda announced
Tue, Dec 16th 2014

521
PNY Metal Attaché 16GB USB 2.0 Flash Drive review
Thu, Dec 11th 2014

401
All-in-one Admin Tool for agent troubleshooting
Tue, Dec 9th 2014

776
AOL to start charging in 2015 for Sametime Gateway connectivity
Thu, Dec 4th 2014

322
Bushnell Outdoor SolarWrap Mini Portable Battery review
Tue, Dec 2nd 2014

272
Thoughts on IBM Verse launch plus tons of resource links
Wed, Nov 19th 2014

897
Top 10
SmartCloud for Social Business aka LotusLive.com is changing it's domain name and adding Sametime meetings
Thu, Nov 15th 2012

3498
Domino Migration Utility - where did you go?
Mon, Oct 27th 2014

948
IBM Mail Next versus Microsoft De-Clutter early thoughts
Wed, Nov 12th 2014

938
Thoughts on IBM Verse launch plus tons of resource links
Wed, Nov 19th 2014

897
IBM addresses Poodle and SHA-2 issues in new technotes
Tue, Oct 21st 2014

811
All-in-one Admin Tool for agent troubleshooting
Tue, Dec 9th 2014

776
IBM Verse announced - formerly IBM Mail Next
Tue, Nov 18th 2014

774
Skype 6.21.104 is consuming way too much memory
Thu, Oct 16th 2014

686
IBM Mail Next Road Show Regional Events registraion open
Thu, Nov 13th 2014

656
IBM taps Spredfast for IBM Mail Next social media aggregation launch
Mon, Nov 17th 2014

643
Connectria announces the opening of our fourth data center
Chris Miller

I am happy to finally announce that Connectria is opening our fourth data center, this time in Dallas, TX to meet our expanding cloud services.

Connectria Hosting, a global managed hosting provider, today announced that it secured a new location in a Tier 4 CyrusOne data center in Lewisville, Texas.

The CyrusOne facility, a Tier 4 designated facility according to the Telecommunications Infrastructure Standards for Data Centers (TIA 942), is now the fourth data center location for Connectria, with existing data centers in St Louis and Philadelphia.

A Tier 4 designation is the highest level a data center can achieve, designed to host mission critical computer systems, telecommunications facilities and storage environments with fully redundant subsystems (cooling, power, network links, etc) and compartmentalized security zones, controlled by biometric access control methods.

As we expand our reach into cloud hosting with the IBM i launch cloud launch this is an excellent time to talk to us about your needs.

Related posts:
Visit the

Connectria website

today and find out why we offer the best in Lotus Software hosting and management.

Eat.Sleep.Host It is what we do.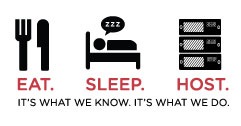 ---------------------
http://www.idonotes.com/IdoNotes/idonotes.nsf/dx/connectria-announces-the-opening-of-our-fourth-data-center.htm
May 09, 2012
30 hits




Recent Blog Posts
160



DE Lipstick Style 2600mAH PowerBank with flashlight review
Fri, Dec 19th 2014 10:21a Chris Miller
The DE Lipstick Style 2600mAH PowerBank with 3 function flashlight is a metal cased, compact and sleek design with added 3 function flashlight. A great stocking stuffer and addition to the portable arsenal. The simplified packaging was welcome, no scissors needed just to get it open. Included was the DE Lipstick Style 2600mAH PowerBank and the USB cable you will use to either charge your device or the PowerBank. A plug end is not included. (I just installed USB plug combos in the house to solv [read] Keywords: archive blackberry
521



IBM ConnectED 2015 - my sessions and the agenda announced
Tue, Dec 16th 2014 12:34p Chris Miller
I am happy to be back presenting at Lotusphere aka IBM Connect aka IBM ConnecED 2015, This time I am honored to partner with Wes Morgan for Sametime Deployment Do's & Don'ts and my own Considerations for the Cloud.. In each of these sessions I hope to bring you a unique perspective on decisions you will make while deploying your solutions and how to avoid the common mistakes. Also we look at mistakes that come to haunt you after you have begun roll-outs. I sit in a unique position at Co [read] Keywords: collaboration ibm lotusphere sametime
401



PNY Metal Attaché 16GB USB 2.0 Flash Drive review
Thu, Dec 11th 2014 11:33a Chris Miller
Lets start with the low price for 16GB in a flash drive that makes the PNY Metal Attaché 16GB USB 2.0 Flash Drive a great gift option. Packaging was easy to open unlike most that are contained in plastic so tough it takes scissors and a hacksaw to get to. I pulled the cardboard back and was ready to go. One thing keeping the price down of the PNY Metal Attaché 16GB USB 2.0 Flash Drive is the USB 2.0 speeds. For most people this is not a problem or worry. I am finding most do not even know [read] Keywords: archive
776



All-in-one Admin Tool for agent troubleshooting
Tue, Dec 9th 2014 11:55a Chris Miller
The All-in-one Admin Tool for agent based troubleshooting and problem solving has been around IBM since version 7. I first wrote about it back in July 2011 but that was removed when SocialBizUG was born and content migrated. So you needed a refresher as we did having to use this very recently The tool is quite powerful and offers a wide array of troubleshooting abilities that have saved us some time. Here is a great list of what it offers This is general to help analyze, workaround, or solve [read] Keywords: acl admin agent domino dxl ibm lotusscript database office profile server xml
322



AOL to start charging in 2015 for Sametime Gateway connectivity
Thu, Dec 4th 2014 9:38a Chris Miller
IBM has announced that AOL will charge IBM Sametime Gateway customers to connect through the Clearinghouse to the AOL AIM public IM service. There is also a new form that everyone must fill out to continue your federation and this comes with a cost now. AOL has offered this magical behind the scenes service for a long time. The Clearinghouse acts as the intermediary connectivity point between enterprises and the public AOL IM service. It has been free up until this point. Based on the above im [read] Keywords: ibm sametime enterprise
272



Bushnell Outdoor SolarWrap Mini Portable Battery review
Tue, Dec 2nd 2014 9:26a Chris Miller
The Bushnell Outdoor SolarWrap Mini Portable Battery velcro wrapped solar charger is light enough to be in everyones backpack, computer bag or purse. Having solar charging it removes that requirement of being plugged in to charge, but that is still an option as well. You will need direct sunlight and not many clouds to meet the 10 hours of stated charging by sunlight. You can easily plug this into any USB powered adapter (wall plug not included but we have so many now) and it only takes 4 hours. [read] Keywords: archive ipod office





897



Thoughts on IBM Verse launch plus tons of resource links
Wed, Nov 19th 2014 12:46p Chris Miller
IBM officially announced via a live event and webcast IBM Verse, formerly IBM Mail Next, as a new way to interact with your email using advanced analytics and a new user interface. There was a lot of anticipation and marketing put into the launch. Here are some of my thoughts and what the press thought. We can start with the IBM posting from the Social Software blog entry defining the design principles that inspired the work and the new personas they built to go along with it. There are qu [read] Keywords: collaboration connections domino dwa ibm inotes lotus notes application applications development email enterprise exchange exchange google interface microsoft mobile networking office outlook social software twitter
774



IBM Verse announced - formerly IBM Mail Next
Tue, Nov 18th 2014 6:57a Chris Miller
IBM launched the website and YouTube video for IBM Verse, formerly IBM Mail Next.. Sign up for the general public also seems to be open. The actual webcast of the launch is hours away. Look for another blog posting later today about IBM Verse with details from the launch event. You can read all my my IBM Mail Next blog postings right here. [read] Keywords: domino ibm
643



IBM taps Spredfast for IBM Mail Next social media aggregation launch
Mon, Nov 17th 2014 1:18p Chris Miller
IBM seems to have chosen Spreadfast (also merged in Mass Relevance) from Austin, TX as their social content aggregator and conversations for the IBM Mail Next launch event. Spredfast offers a few services and products around social media management, curation, listening, analytics and more. Our platform processes 650 million pieces of social content per day across every major social platform out there. Capture conversations across Twitter, Facebook, Instagram, LinkedIn, Pinterest, and Google+ [read] Keywords: domino ibm community facebook google linkedin mobile twitter
267



SOL REPUBLIC PUNK Wireless Bluetooth Speaker review
Fri, Nov 14th 2014 9:17a Chris Miller
The SOL REPUBLIC PUNK Wireless Bluetooth Speaker did not disappoint for it's durability and ruggedness. We take our reviews serious and we have reviewed quite a few Bluetooth speakers (some with mics for calls too). The SOL Republic Punk met everything it advertised. We received it in black but it comes in a few colors. Setup was simplistic as expected being a Bluetooth speaker. We also connected it via the 3.5mm cable. Both provided the same sound quality as long as you are in range f [read] Keywords: archive wireless