Latest 7 Posts
What is the IBM Domino Community Server
Wed, Sep 20th 2017

9
Announcing IBM Bluefizz - goodbye IBM Docs and IBM Connections on Greenhouse
Mon, Sep 11th 2017

11
IBM and Salesforce shake hands and offer integrations
Thu, Aug 31st 2017

5
IBM Connections Cloud enhancements for July 2017
Tue, Jul 18th 2017

5
Canon Pixma MG3620 Wireless Printer review
Tue, Jun 27th 2017

5
IBM Connections Cloud enhancements for June 2017
Mon, Jun 26th 2017

7
DB2 on Cloud is renaming and something else is now Db2 on Cloud??
Wed, Jun 21st 2017

6
Top 10
IBM issues withdrawl statement about MaaS360 from On-Premises
Mon, Aug 15th 2016

14
Disable Non-Delivery Reports
Mon, May 19th 2014

12
IBM Watson gets a ride in GM cars with OnStar Go
Thu, Dec 1st 2016

11
Announcing IBM Bluefizz - goodbye IBM Docs and IBM Connections on Greenhouse
Mon, Sep 11th 2017

11
How To: Using Chromecast in a Hotel wifi network
Thu, Jul 10th 2014

10
IBM Verse does not currently support sending encrypted messages
Fri, May 8th 2015

10
IBM Verse exclusive BP Enablement Session at IBM ConnectED 2015 announced
Wed, Jan 7th 2015

9
IBM Connections Cloud enhancements for August 2015
Thu, Aug 27th 2015

9
IBM Connect 2017 registration is open
Mon, Dec 5th 2016

9
Phonetic Computer Eyewear product review
Mon, Dec 19th 2016

9
Nut Find 3 versus MYNT bluetooth tracker review and showdown

Chris Miller

Bluetooth tracker devices are becoming a crowded and competitive space. I have been able to review numerous trackers (eight and counting) and finally see what areas will decide the winner to my needs. The clear winner will have an application with the most features coupled against the simplest interface. Then toss in two way tracker capability that has a long and changeable battery.
For this showdown I was able to compare the Nut Find 3 and Mynt. While

Nut

is on the third version (plus has a min version),

Mynt

has come out of the gates thinking ahead of the competition in any way they could. I made sure to update the applications to the very last day before finalizing the review to account for any crashes or issues.

Let me throw this out there now. To run this test I had a few choices:
I could lowjack a kid and see how it worked
I could take my life in my hands and try and lowjack my cat (skilled ninja)
I could walk the devices far away, come back to the phones and try that way
I could attach it to a drone and fly it around in different directions and distances

Presuming I would get in trouble for choice 1, injured in choice 2 and too lazy for choice 3, the final one made the most sense. Plus it let me play with multiple technologies at once.

Nut Find 3
The

Nut Find 3

comes in 4 colors (peach white, green tea, pink orange and cherry gray) which the names of immediately confused me. The look was like many other Bluetooth trackers with the rounded corner square that is about 7.2mm thick (1.5" square and 0.28" thick for comparison needs to MYNT). The textured top, just like a walnut, did have it stand out.

The battery in the

Nut Find 3

is a CR2032 with replacements readily available everywhere. I love the fact they allow you to change batteries when needed. Some vendors choose to make you buy a new device, but the recent trend is replaceable batteries inside the devices. Nut gives the estimated battery life at around 8 months to one year of normal usage.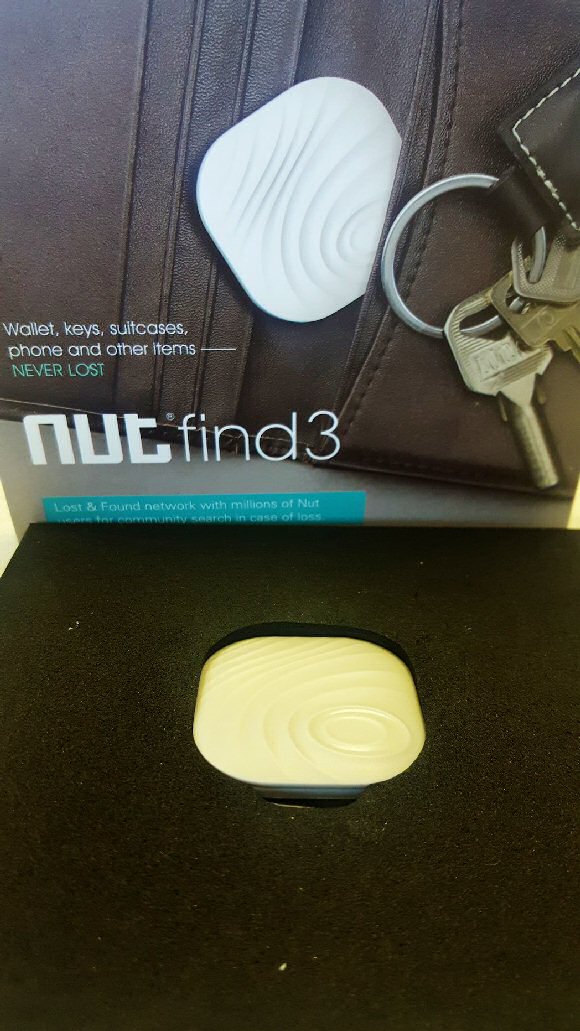 You can easily download the Nut application in the AppStore and Google Play. Once launched, Nut assigns you a random Username that is easily changed. My first name was User611477. A few clicks and that was easily set. It also forces you to pick a gender. I do not think that is necessary at all for the service or the application.

Inside of the application there are quite a few features. One of them is the Add Friends. This allows you to add someone by phone number or email address. This prompts them to download the Nut application for their device. You can also add a new Nut device by placing it close to the phone or scanning the QR code that comes with it. Both will add the new hardware to your application and bind it to you as a user. This is important for lost Nuts or moving a Nut Find to a new device that I cover a little later. We had issues adding the Nut Find with the QR code since the code was so lightly printed on the package it seemed. Scanning to find it worked right away though.

So the application and website make the whole My Friends thing very unclear. Why would I want friends? What use is it to me? The crowd location ability for a lost Nut has nothing to do with who is your friend. So what good is it? Surprisingly, even the Nut website had nothing to offer. I mention their lack of a good online or in app resource below. So guess where I found a screenshot and the best explanation for what having friends does? On their

app page

for iTunes. Apparently, the friends capability allows you to see where they are in real time (or their Nut device is).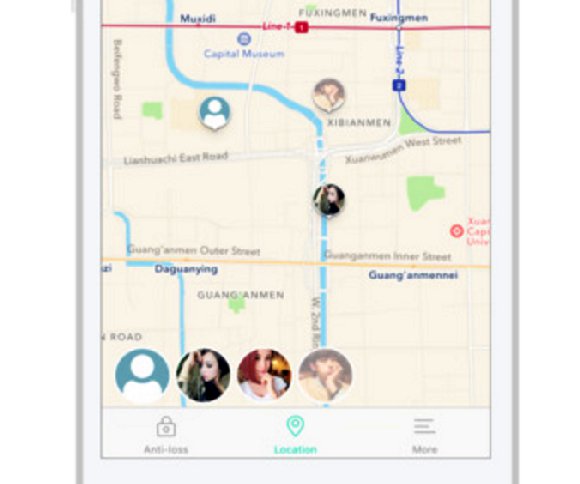 Silent Modes are a winner for any Bluetooth tracker and Nut includes this in their application. You can establish silent regions around Home, Work and Other. This region is wifi controlled meaning as long as your device and Nut are in the same wifi zone you will not get alerts. This is awesome since most of us move around the house or office with our phone and may leave our keys in a drawer or desk. You can always push the locate ability inside the zones if something you attached the Nut to gets misplaced. But in general, proximity alerts are disabled.

Notifications are in a weird UI place inside of the application to me. Under the More menu in the bottom right you have this nice scrolling list of things Most are help, user stories and unnecessary things that could be put into sub menus. But notifications is in the upper right as an envelope (and a very light gray one on white background) and only accessible there. I would expect this to show on other screens for sure. Notifications usually require attention or action. Why they placed it there baffled me.

I lost my

Nut Find 3

, now what?

When your Nut is disconnected, you can use "Declare Lost" for the Nut Network to help you find your Nut. All the Nut App users can help you search for your Nut after you declare lost. Another note to make is around the result of a lost Nut. If you want to ever unpair or disconnect a Nut Find from your device it needs to be in connected mode first, then you remove it. This allows you to transfer it to someone else. However, it if gets lost or your force disconnect it then the Nut Find 3 is locked until connected to the original account. This means, basically, someone cannot steal your Nut. (inset any pun here you wish).

One thing I did not like is the lack of an extended (and easy to find)

FAQ

or support on the Nut website. I would anticipate many would want a step-by-step guide to many features along with a long Q&A of common questions. Heck there is only a standard contact form and not even a link to support on the main pages. Creating an account on their website only allowed me to see orders. Not work with my device or anything more that was helpful. Even the app only has user stories and feedback. No help link was found there either.

MYNT


MYNT

declares itself a stylish and sleek design winner right out of the box. Even though it comes in four colors (at the time of this review), it has an immediate impact when you slide the clear package out from the liner. It is 2" long x 1" wide and only .125" thick (50.8mm x 25.4mm and 3.175mm thick for Nut Find 3 comparison purposes) in an elliptical shape allowing you to easily slip this into pockets and bags. I would not hang this on a pet due to the length though.

I was able to get my hands on the stainless steel look with an additional plastic case. The look of the black, gold and blue were just as clean from the online pictures. It also comes with a small lanyard to allow you to hang this onto just about anything. Also are some double sided sticky pads to let you adhere MYNT to some items.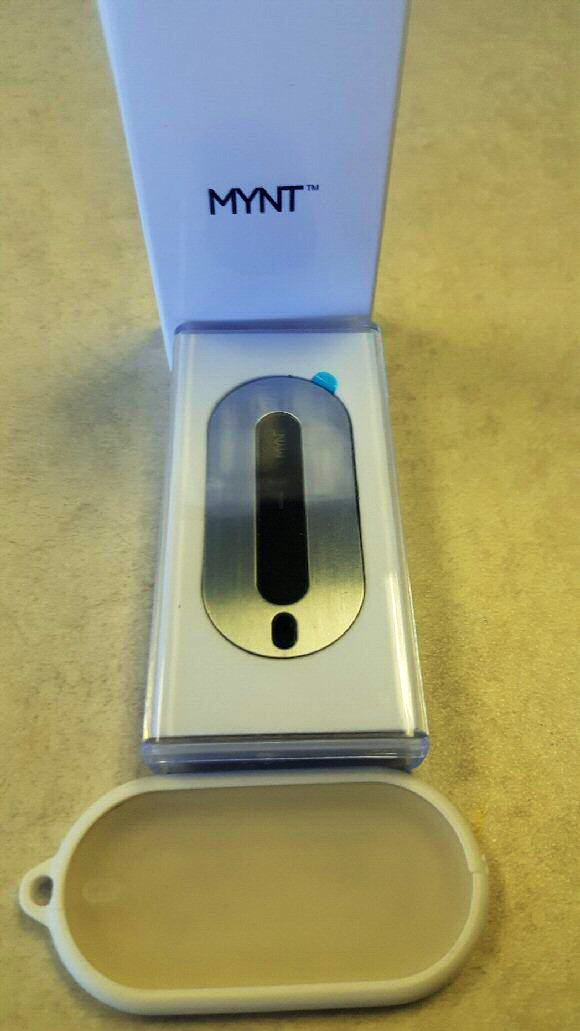 The battery in the

MYNT

is a CR2020, and one additional is included in the package. I love the fact they allow you to change batteries when needed. Some vendors choose to make you buy a new device, but the recent trend is replaceable batteries. MYNT even brands a 5 pack of the batteries you can buy. I would suggest for batteries shop around. I found 10 packs equal to the price they were charging for 5. I hope they start to match prices since I already have the device. Batteries are not their market, tracker experience is.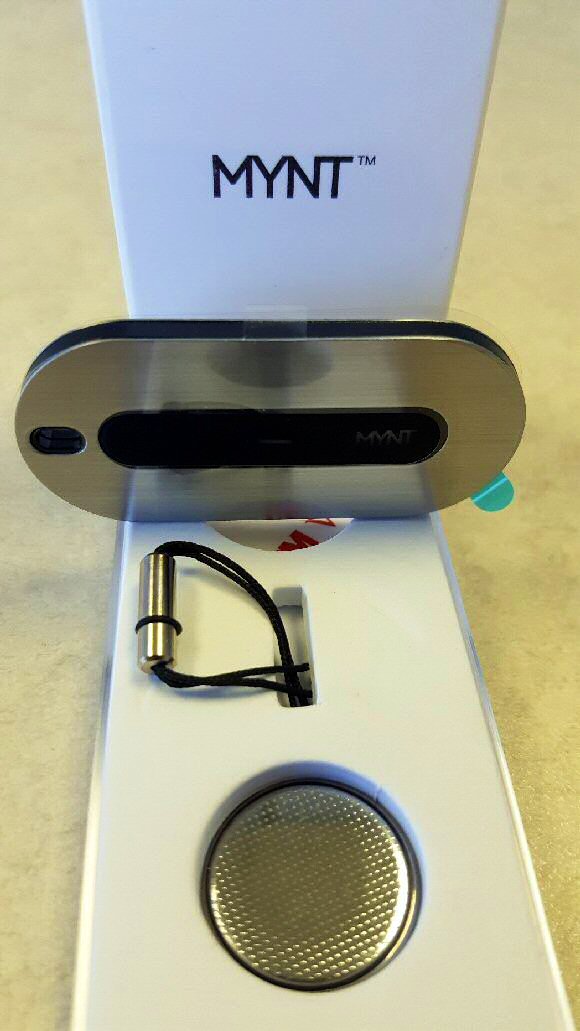 The

MYNT

application is available for both Android and iOS. It was simple to find via searches or you can scan the QR code they include with the packaging. I honestly found it easier to just type MYNT into the AppStore and Google Play. If you plan on using MYNT for tracking (and not just as an application extension we talk about below) the app should be allowed to run in the background. They have a good help screen online showing how that is accomplished. I should not have to mention it but you need to have Bluetooth turned on your device too. Location settings should also be accessible if you want to do things like parking reminders and last seen using a GPS type map. The icon for the app will be gray if it the device is not connected as a great visual indicator.

The MYNT device has a control button and remote circuit included making it compatible with many applications including the camera. This allows you to click the MYNT and activate the shutter, change slides in presentations and more depending on the application. Note that MYNT can only be paired with one device at a time. So you cannot have it work with a Mac computer and an iPhone at the same time or even two phones at once for example. In reverse a single MYNT application can keep track of up to 8 devices at once. They have reported future plans of 12 devices.

One cool feature that many Bluetooth trackers are implementing is cloud and community location. This means that if I go in and mark my MYNT as lost, the next time anyone in the MYNT community walks by with their app running, my lost tracker will be picked up on Bluetooth and the app will shoot that location to the cloud and let me know where it was seen. They do not know they saw it nor do I know who saw it. This is a and cool way to find lost items.

So the MYNT touts itself as waterproof (well really they say

IP43 rating

) when using the included sleeve I put in the above picture. By itself it is safe for the rain or a moist environment according to the documentation. In no possible way was going to test that fact and ruin the device. I am not exactly sure how the sleeve allows you to even swim with the MYNT since, in my opinion, it still has openings and the ability for water to easily get in. I would click the link above on IP ratings. I learned quite a bit and now fully understand how the ratings work. This device is splash proof according to ratings they promote. even with the case I do not see it being full waterproof like an IP48 rating.

Our Chosen Winner
It was pretty clear after a short time of using both devices that MYNT was our favorite. The stylish look and the multiple functions make it stand out. While both offered many of the same features, the extras from MYNT give it quite the advantage. See the video at the beginning for the unboxing, tearing through the applications and more commentary.

You can get

MYNT

and accessories and the

Nut Find 3

both on Amazon (yes that is an affiliate link)

Thanks to Xberts and making me a Xberts Pioneer to get access to these for review. Please see all the

product reviews

here on the IdoNotes blog and subscribe to the SpikedStudio channel or

product review playlist

on YouTube

---------------------
http://www.idonotes.com/IdoNotes/idonotes.nsf/dx/nut-find-3-versus-mynt-bluetooth-tracker-review-and-showdown.htm
Sep 07, 2016
9 hits




Recent Blog Posts
9

What is the IBM Domino Community Server
Wed, Sep 20th 2017 4:20p Chris Miller
IBM has recently announced the IBM Domino Community Server edition (package?) to help you test non-production applications without needing a server license IBM® Domino® Community Server for Non-Production will be a nonwarranted license option that enables your organization to test applications in a non-production environment. This offering will provide students, developers, and vendors with the capability to test their custom IBM Domino applications. .One of the keywords above is that it is
11

Announcing IBM Bluefizz - goodbye IBM Docs and IBM Connections on Greenhouse
Mon, Sep 11th 2017 8:23p Chris Miller
IBM has announced IBM Bluefizz and the sunsetting of IBM Greenhouse entirely. The Greenhouse team thanks you and all of our loyal users, customers and business partners for making Greenhouse the place for learning about and trying out IBM collaboration products and solutions. On October 15, 2017 we will sunset both IBM Docs and IBM Connections on Greenhouse. We have officially launched the next evolution of Greenhouse, Bluefizz. We welcome you to start using Bluefizz now to discover the latest
5

IBM and Salesforce shake hands and offer integrations
Thu, Aug 31st 2017 3:05p Chris Miller
IBM and Salesforce have dropped the gloves, shook hands and both offered data and app integrations to further their partnership. In the recent announcements (previously it was just selling their Watson and Einstein products) they are doing deeper app and data intergration offerings. I think Salesforce got the raw end of the deal only offering IBM Weather data in Lightning apps. Weather data is pretty abundant, but IBM does own the rights to allThe Weather Company since buying them a couple
5

IBM Connections Cloud enhancements for July 2017
Tue, Jul 18th 2017 4:02p Chris Miller
IBM has released what's new for IBM Connections Cloud for July 2017. Here is some of the updates Verse for iOS 9.4 performance, scalability, and security enhancements Verse mobile for iOS just got better with enhancements to performance, scalability, security, and ease of use. This release contains general performance improvements for Inbox, Calendar, and Contacts views. Connections: Get started fast with guided tours New guided tours provide first time users and experiences users alike
5

Canon Pixma MG3620 Wireless Printer review
Tue, Jun 27th 2017 2:15p Chris Miller
The Canon Pixma MG3620 Wireless Printer is a affordable and easy to use wireless printer. That is after you get it connected to the network in your home. I walk you through the app setup and some quick features in the review video above. As someone that does not print often, the times I do want to is when I am mobile. Packaging The printer comes well contained with the power cable and two ink cartridges. No cable for a direct PC connection is included (for those that want to use the Cano
7

IBM Connections Cloud enhancements for June 2017
Mon, Jun 26th 2017 11:00a Chris Miller
IBM has released what's new for IBM Connections Cloud for June 2017. Here is some of the updates Verse Verse: Preview attachments while composing a message When you compose an email message, you need to be able to preview an attachment while in Draft mode so that you're confident you're sending the correct information. Now you can! Click the attachment to preview it in the Verse window. Click X to close it and return to composing your message. Verse: Replied to and forward
6

DB2 on Cloud is renaming and something else is now Db2 on Cloud??
Wed, Jun 21st 2017 3:49p Chris Miller
IBM sent a very confusing email about DB2 on Cloud and renaming. I will just leave this here On June 22 a number of products will be renamed in our Db2 family of products That's right, Db2 "DB2 on Cloud" will be renamed "Db2 Hosted" and "dashDB for transactions" will be renamed "Db2 on Cloud. Now notice the DB becomes Db in the new name. I am not sure if that was a typo or on purpose to differentiate the products. Either way taking a product name and swapping a new product into it al
6

IBM Cisco Offering Technical Deep Dive replay
Thu, Jun 8th 2017 2:37p Chris Miller
IBM put together a webcast on the new IBM and Cisco Offering. The webcast is just under one hour. You can stream it with the blow link Watch and replay the webcast right here and even download the presentation here
8

IBM Connections Cloud enhancements for May 2017
Fri, May 19th 2017 3:18p Chris Miller
IBM has released what's new for IBM Connections Cloud for May 2017. Here is some of the updates Verse Verse: Calendar delegation Need to view or manage the calendars of others? You can now use IBM Verse to add people who have given you access to their calendar using IBM Notes. Add them to the Delegation panel, and open any managed calendar in a separate browser tab. When a new calendar notice arrives, you'll be alerted by a red badge in the calendar's browser tab. Alain Ama
6

Goodbye to IBM Open Mic Webcasts - hello JUMP sessions
Thu, May 11th 2017 2:54p Chris Miller
IBM Open Mic Webcasts have been a place for you to ask anything you wanted on a specific topic with IBM engineers and support. They quietly, and not sure what the name means, now call them JUMP sessions. I noticed this name change only due to a small notation made in a recent email announcing a webcast (JUMP??). However, the emails still look and read just like IBM Open Mic Webcasts. As a valued IBM client who has contacted technical support, you are invited to participate in an IBM Suppor