Latest 7 Posts
IBM Connections Cloud enhancements for May 2017
Fri, May 19th 2017

361
Goodbye to IBM Open Mic Webcasts - hello JUMP sessions
Thu, May 11th 2017

26
Replacing IBM Connections Chat with Cisco options
Thu, May 4th 2017

6
home8 Elder Care Security Kit review
Thu, Apr 27th 2017

7
Cross Canada Collaboration User Group is April 27 2017
Mon, Apr 24th 2017

10
IBM Connections now says 'heart' my status
Thu, Apr 13th 2017

10
IBM Connections Cloud enhancements for April 2017
Fri, Apr 7th 2017

6
Top 10
IBM Connections Cloud enhancements for May 2017
Fri, May 19th 2017

361
Goodbye to IBM Open Mic Webcasts - hello JUMP sessions
Thu, May 11th 2017

26
IBM issues withdrawl statement about MaaS360 from On-Premises
Mon, Aug 15th 2016

12
YI Action Camera review
Fri, Oct 14th 2016

12
Deploying IBM Blockchain on IBM Bluemix - IBM Connect 2017
Wed, Mar 1st 2017

12
IBM Connections Cloud enhancements for March 2017
Wed, Mar 22nd 2017

11
IBM messaging roadmap from IBM Connect 2014 - what's missing
Mon, Feb 3rd 2014

10
Disable Non-Delivery Reports
Mon, May 19th 2014

10
How To: Using Chromecast in a Hotel wifi network
Thu, Jul 10th 2014

10
Update on IBM Verse and the IBM Messaging Roadmap
Wed, Jun 10th 2015

10
Phonetic Computer Eyewear product review

Chris Miller

Digital eye strain has been a concern of mine for years. Blue light streams from the monitors at me for a good six hours or more a day. Phonetic Computer Eyewear makes a myriad of glasses to help combat it while keeping up with style. I almost put up pictures of me actually in them but selfies are tough. I have a special coupon code for my readers at the end.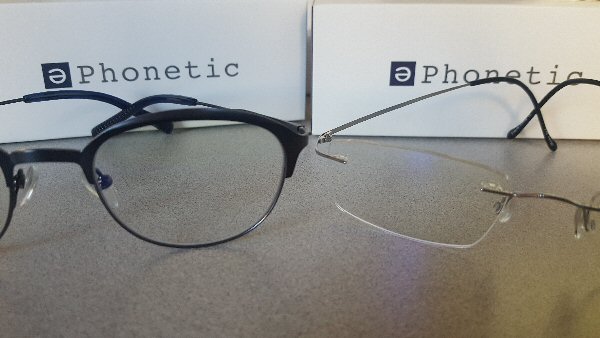 I honestly have tried and worn a competitor brand for many years. They were considered gaming and computer glasses and carry a visible yellow tint when looking at them. They are more function that style for sure. Along came Phonetic who sent me two of their over 65 (my count not theirs) different frames and styles. Of course each frame also came in colors. First let me talk about what computer eyewear is supposed to do

Computer eyewear in general is supposed to block a certain part of the color spectrum that is most harmful to your eyes for long periods. We are referring to the blue that monitors and phones emit. Natural blue light is not a problem to your eyes from everything I could find in researching this review. It is the artificial blue lights as referred to below:

Within the visible light spectrum, blue light has a shorter wavelength and higher energy, which is harder for our eyes. Because these waves are shorter, they appear to flicker more than longer, weaker wavelengths. Flickering is the flashing effect that happens when the LED backlight controller of a monitor adjusts the brightness levels during display refreshing. This causes eye fatigue without you even noticing.

I searched online and came across this easy to understand graphic on what all of these types of computer glasses do. They take that blue band of light and make it smaller depending on how much they block. I did a few tests looking at this image with no glasses, Phonetic Eyewear and the competitor I have had some a few years. It is amazing to see how much all them actually work at varying levels.



The bottom is what the band would look like if all the blue was blocked. Here are the results I received from my tests. Of course I see the full blue band with my naked eye in the top bar. It is pretty wide if you stare at it. I then wore the competitor glasses and the band became so thin you had to look hard to focus on it. I then held up and wore Phonetic Eyewear glasses. The blue band definitely got smaller, but not as small as the competitor. They led me to figure out more on how it worked and why. Let me cover the two pair Phonetic sent and then more on the specifications.

Phonetic Computer Eyewear let me choose one pair and picked one for me at my request. The first pair was the Phonetic Simplicity in silver. There was 3 lens shapes to choose from as well. I can tell you up front I love the look, and comfort in wearing them. They are so thin and light it is almost like not having them on at all.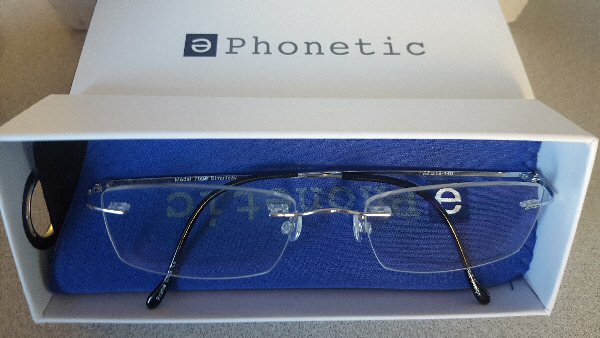 The frames are super thin and light. The lenses have no frame and the bridge piece was not bulky. I could wear these all day in comfort and even with my headset over my ear for conference calls. Included below the eyewear is a neoprene sleeve case, cleaning cloth and warranty/information card.

The other pair I chose in gunmetal color was appropriately named Miller. These were a much hardier frame and weight and stood out to those that saw me wearing them. Both pair have the same protection level and coating we will talk about shortly.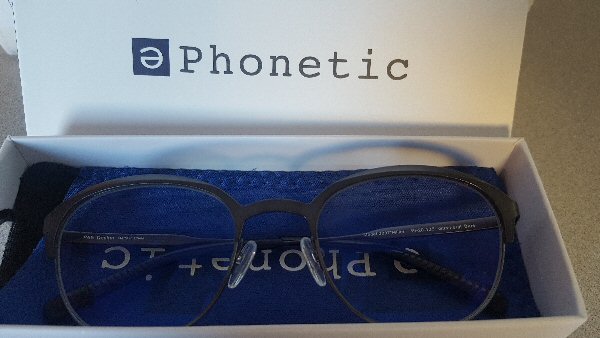 You can see the thicker arms and half frame around the lenses. As someone that does not wear glasses daily I noticed these after a few hours. That is a personal choice. They were comfortable and I imagined I would get used to them in longer times the more I wear them. Just as anyone new to glasses would.

Where did all lead me? A chase down the Internet search hole. Phonetic Computer Eyewear states the following about their blocking:

Phonetic lenses block approximately 35% of the light in the violet/blue spectrum (380nm to 500nm) and more than 50% of the light from 380nm to 450nm, which is the portion of the violet/blue spectrum with the highest energy content

This makes perfect sense since the other manufacturer, the glasses that also have a yellow tint, claim they block more higher percentage. I would believe both vendors since it matches my non-scientific test results.

No matter the vendor I firmly believe that wearing computer glasses reduces the strain on my eyes. Phonetic Computer Eyewear look great, have a cool selection of frames and block enough of the blue light without having the yellow filter some of the other makers have. You can get Phonetic Computer Eyewear on Amazon or directly on their website and use the coupon below..

Special for my readers: If you order from their website I have a coupon code for you. Use

NOTES10

for an immediate 10% off your order.

---------------------
http://www.idonotes.com/IdoNotes/idonotes.nsf/dx/phonetic-computer-eyewear-product-review.htm
Dec 19, 2016
5 hits




Recent Blog Posts
361

IBM Connections Cloud enhancements for May 2017
Fri, May 19th 2017 3:18p Chris Miller
IBM has released what's new for IBM Connections Cloud for May 2017. Here is some of the updates Verse Verse: Calendar delegation Need to view or manage the calendars of others? You can now use IBM Verse to add people who have given you access to their calendar using IBM Notes. Add them to the Delegation panel, and open any managed calendar in a separate browser tab. When a new calendar notice arrives, you'll be alerted by a red badge in the calendar's browser tab. Alain Ama
26

Goodbye to IBM Open Mic Webcasts - hello JUMP sessions
Thu, May 11th 2017 2:54p Chris Miller
IBM Open Mic Webcasts have been a place for you to ask anything you wanted on a specific topic with IBM engineers and support. They quietly, and not sure what the name means, now call them JUMP sessions. I noticed this name change only due to a small notation made in a recent email announcing a webcast (JUMP??). However, the emails still look and read just like IBM Open Mic Webcasts. As a valued IBM client who has contacted technical support, you are invited to participate in an IBM Suppor
6

Replacing IBM Connections Chat with Cisco options
Thu, May 4th 2017 7:21p Chris Miller
IBM and Cisco partnered together to integrate Cisco Jabber, Cisco Webex or Cisco Spark with IBM Connections. Here are some things we found in testing the integrations. Of course, we presume you have licenses for Cisco and IBM Connections. Your organization needs to choose a standard chat client and direction. You have numerous options with IBM Connections Chat including Sametime, Connections Chat and more. However, only one can be configured for all of the icons and links in the IBM Connecti
7

home8 Elder Care Security Kit review
Thu, Apr 27th 2017 2:49p Chris Miller
home8 has put together an Elder Care Security Kit including a security shuttle (hub), wide-angle and remotely controlled movable camera, a panic button and two tracking sensors. We look at the control app and more in this review. Overall, the home8 Elder Care Security Kit is a good collection of gadgets to give you a better feeling that your elder family member is safe and can reach you (and you them) at any time. You can even peek in via video when needed. See the full review as we break dow
10

Cross Canada Collaboration User Group is April 27 2017
Mon, Apr 24th 2017 3:05p Chris Miller
You can register to attend virtually for the Cross Canada Collaboration User Group event. You can attend in person or virtually for this day of 8 sessions. Sessions will cover Watson, Alexa, Domino applications, case studies, the IBM Connect Hackathon and more. Register for the Cross Canada Collaboration User Group event right here
10

IBM Connections now says 'heart' my status
Thu, Apr 13th 2017 3:35p Chris Miller
IBM Connections is releasing an update that is replacing the Like with a heart icon. It will universally replace "Like" and in some places the happy face icon. I am torn by this decision. As you can see in the above image, the heart icon allows you to let the author of the file, blog, status update or comment know that you love it. I did say love it since the heart usually means love. In the business world I think the 'like' meaning was so much better. Even Facebook adopted 'like' with
6

IBM Connections Cloud enhancements for April 2017
Fri, Apr 7th 2017 3:49p Chris Miller
IBM has released what's new for IBM Connections Cloud for April 2017. Here is some of the updates. Verse Verse: Automatically show remote images Messages that contain remote images can pose a security risk. Up until now, if you wanted to see an external image, you had to click Show Images in each message containing external images. However, if you are willing to trust external images, you can have Verse automatically show remote images for all messages. There's a new setting in
11

IBM Connections Cloud enhancements for March 2017
Wed, Mar 22nd 2017 6:30p Chris Miller
IBM has released what's new for IBM Connections Cloud for March 2017. Here is some of the updates. Verse Mobile: Android users now can view mail as threaded conversations Verse Mobile is introducing visual grouping of messages and their replies into threaded conversations or threading. You have the option of viewing messages individually or as a grouped thread. A thread is shown as one item in the Inbox or folders Forwarding rather than Replying starts a new thread Changes in
12

Deploying IBM Blockchain on IBM Bluemix - IBM Connect 2017
Wed, Mar 1st 2017 4:03p Chris Miller
At IBM Connect 2017 I presented the above session of Deploying IBM Blockchain on IBM Bluemix as a Customer. I was happy to see so many interested in this topic. I also have a video that was complied walking through the steps coming. Deploying Blockchain on IBM Bluemix as a customer Explore the benefits of IBM Blockchain for decentralized and trusted controls. Decentralized and trusted processing of real-time transactions can speed up your business processes! Learn how to deploy both test and
8

Gurupalooza replay from IBM Connect 2017
Mon, Feb 27th 2017 2:35p Chris Miller
I had the pleasure of participating again in Gurupalooza at IBM Connect 2017 . I managed to capture the entire thing on Facebook Live. Here is the replay. You will find tons of Connect 2017 content on the IdoNotes Network page on Facebook.