Latest 7 Posts
What is the IBM Domino Community Server
Wed, Sep 20th 2017

8
Announcing IBM Bluefizz - goodbye IBM Docs and IBM Connections on Greenhouse
Mon, Sep 11th 2017

10
IBM and Salesforce shake hands and offer integrations
Thu, Aug 31st 2017

4
IBM Connections Cloud enhancements for July 2017
Tue, Jul 18th 2017

4
Canon Pixma MG3620 Wireless Printer review
Tue, Jun 27th 2017

4
IBM Connections Cloud enhancements for June 2017
Mon, Jun 26th 2017

6
DB2 on Cloud is renaming and something else is now Db2 on Cloud??
Wed, Jun 21st 2017

5
Top 10
IBM issues withdrawl statement about MaaS360 from On-Premises
Mon, Aug 15th 2016

13
Disable Non-Delivery Reports
Mon, May 19th 2014

12
IBM Watson gets a ride in GM cars with OnStar Go
Thu, Dec 1st 2016

12
How To: Using Chromecast in a Hotel wifi network
Thu, Jul 10th 2014

10
IBM Verse exclusive BP Enablement Session at IBM ConnectED 2015 announced
Wed, Jan 7th 2015

10
IBM Verse does not currently support sending encrypted messages
Fri, May 8th 2015

10
Announcing IBM Bluefizz - goodbye IBM Docs and IBM Connections on Greenhouse
Mon, Sep 11th 2017

10
IBM Connections Cloud enhancements for August 2015
Thu, Aug 27th 2015

9
IBM Connect 2017 registration is open
Mon, Dec 5th 2016

9
Phonetic Computer Eyewear product review
Mon, Dec 19th 2016

9
Canon Pixma MG3620 Wireless Printer review

Chris Miller

The Canon Pixma MG3620 Wireless Printer is a affordable and easy to use wireless printer. That is after you get it connected to the network in your home. I walk you through the app setup and some quick features in the review video above. As someone that does not print often, the times I do want to is when I am mobile.

Packaging
The printer comes well contained with the power cable and two ink cartridges. No cable for a direct PC connection is included (for those that want to use the Canon Pixma MG3620 that way. It is meant to be a total wireless solution for all your devices. The entire experience is driven by the Canon mobile app found free for both iOS and Android called Selphy. We will talk about the application more below.

The Printer Controls
Being that the Canon Pixma MG3620 is an under $50 (at time of writing) wireless printer, I did not expect a ton of features and controls on the physical printer itself. As you can see in the below image you have no LCD screen and a handful of buttons.
The one error light only notifies you there is some kind of issue. The application really helps show you error codes when you are trying to print.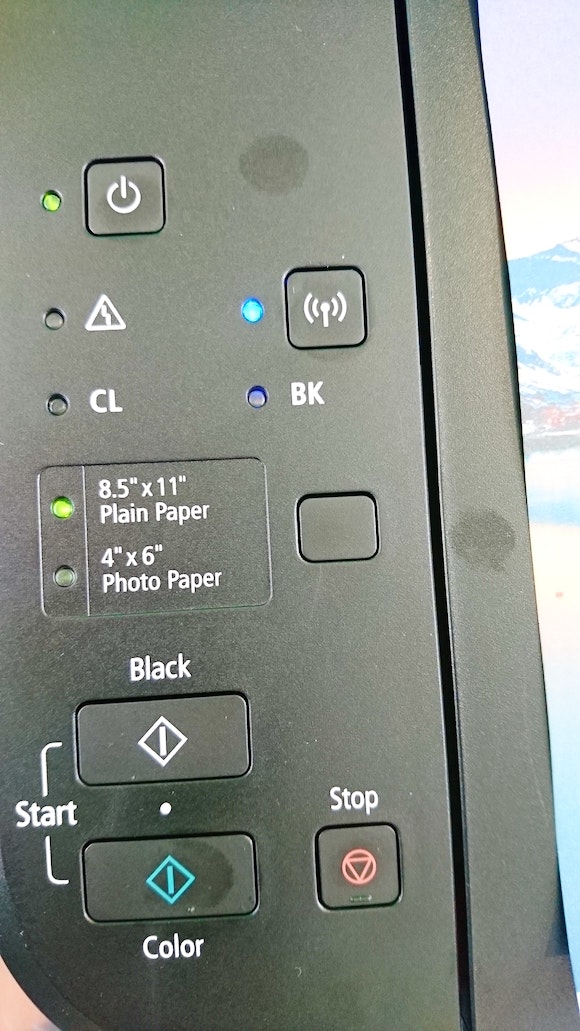 You should carefully look at the enclosed help guides that come with the printer. They show how to use a combination of buttons to do things like reset the wireless. After a few readings I got a good feel for those. The rest was self explanatory. Turn it on, choose the type of paper size (or use the app) and pick color or b&w.

The Paper Loading
The front of the printer is where you have both the paper load and the output as you see in the image below. It does not hold a ton of paper so keep that in mind for larger print jobs. The main idea of this printer is for the mobile quick print of a document or photos onto 4x6" glossy. However, you cannot have both types of paper loaded and ready at once (like larger printers) so you need to know in advance you have what you need loaded before sending a remote print command. Otherwise your photos could come on expanded on full paper.

The back of the Canon Pixma MG3620 was easily opened for paper jams. I never had one occur in testing. I did not other reviewers online stating they sometimes had jams. I just made sure to fan out the paper and loaded only a handful of sheets. I was careful not to stuff the tray.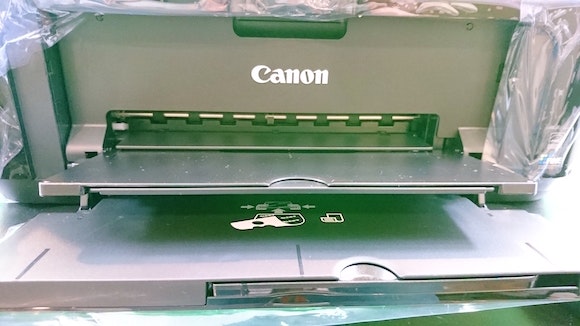 There is a slider I show in the video where you easily adjust the holder for the paper size. Make sure you get the glossy type for photos facing the correct way in the tray. The doors close easily to make this printer fit on tiny shelves.

The Scanner
This is pretty straight forward. It did a decent job scanning documents that had well defined text or images. It will scan up to a regular 8x10" piece of paper. Legal sized documents will not fit as I show in the image.

Wifi Setup
Wifi setup is the most painful part of this entire Canon Pixma MG3620 printer. It really should not be this hard. I spent 90% of the time getting it hooked up when I have tons (and I mean tons) of things on wifi at home. This ranks up with some of the more difficult. One of the problems is connecting to the printer from your device first, pushing the settings for the wifi to the printer and then having it all online. I constantly had to battle with making the lights blink a certain way to make sure it was in the mode to set up.

Remember above when I said learn the button controls from the help file? Well that is how I finally got it all working. A lot of clicks, pushes, app refreshes and I was online and working.

The Application
The application from Canon was easy to find and install. The look and feel is very basic but provides the necessary things you need for quick mobile printing. One thing I want t point out is that the application is not fancy or sleek. It is purely functional. There is a lot that can be added and it often throws you out to webpages on the printer or even their help site. Much of this I feel could look cleaner.

I cover a bit more on the application in the video. Some extra thoughts and wishes revolve around:
look and feel refresh
better ways to work with wifi setup
better links for solving error codes
easier navigation of the file system for selecting documents and pictures to print

Conclusion
For the price point the Canon Pixma MG3620 is a winner of a wireless printer. I set my expectations lower based on the cost and I had no disappointments in quality or function. The wifi setup may be tough for some users. Once you are past that the ease at which you can print has you wanting to start right away.

The print quality will not be as crisp as some more expensive printers. With a single color ink cartridge I did not expect that either. They will always get you on ink costs with any printer. This is no different. But doing the math, this will be cheaper for a quick print than using a service. For higher quality image printing you will need to stick with a store type solution.

Also if my reviews are helpful, even if not buying, click the Yes on Amazon and the thumbs up on YouTube. Please see all the

product reviews

here on the IdoNotes blog and subscribe to the SpikedStudio channel or

product review playlist

on YouTube . We also have a ton of smaller CES2017 review on the

Spiked Studio

blog site.

---------------------
http://www.idonotes.com/IdoNotes/idonotes.nsf/dx/canon-pixma-mg3620-wireless-printer-review.htm
Jun 27, 2017
5 hits




Recent Blog Posts
8

What is the IBM Domino Community Server
Wed, Sep 20th 2017 4:20p Chris Miller
IBM has recently announced the IBM Domino Community Server edition (package?) to help you test non-production applications without needing a server license IBM® Domino® Community Server for Non-Production will be a nonwarranted license option that enables your organization to test applications in a non-production environment. This offering will provide students, developers, and vendors with the capability to test their custom IBM Domino applications. .One of the keywords above is that it is
10

Announcing IBM Bluefizz - goodbye IBM Docs and IBM Connections on Greenhouse
Mon, Sep 11th 2017 8:23p Chris Miller
IBM has announced IBM Bluefizz and the sunsetting of IBM Greenhouse entirely. The Greenhouse team thanks you and all of our loyal users, customers and business partners for making Greenhouse the place for learning about and trying out IBM collaboration products and solutions. On October 15, 2017 we will sunset both IBM Docs and IBM Connections on Greenhouse. We have officially launched the next evolution of Greenhouse, Bluefizz. We welcome you to start using Bluefizz now to discover the latest
4

IBM and Salesforce shake hands and offer integrations
Thu, Aug 31st 2017 3:05p Chris Miller
IBM and Salesforce have dropped the gloves, shook hands and both offered data and app integrations to further their partnership. In the recent announcements (previously it was just selling their Watson and Einstein products) they are doing deeper app and data intergration offerings. I think Salesforce got the raw end of the deal only offering IBM Weather data in Lightning apps. Weather data is pretty abundant, but IBM does own the rights to allThe Weather Company since buying them a couple
4

IBM Connections Cloud enhancements for July 2017
Tue, Jul 18th 2017 4:02p Chris Miller
IBM has released what's new for IBM Connections Cloud for July 2017. Here is some of the updates Verse for iOS 9.4 performance, scalability, and security enhancements Verse mobile for iOS just got better with enhancements to performance, scalability, security, and ease of use. This release contains general performance improvements for Inbox, Calendar, and Contacts views. Connections: Get started fast with guided tours New guided tours provide first time users and experiences users alike
5

Canon Pixma MG3620 Wireless Printer review
Tue, Jun 27th 2017 2:15p Chris Miller
The Canon Pixma MG3620 Wireless Printer is a affordable and easy to use wireless printer. That is after you get it connected to the network in your home. I walk you through the app setup and some quick features in the review video above. As someone that does not print often, the times I do want to is when I am mobile. Packaging The printer comes well contained with the power cable and two ink cartridges. No cable for a direct PC connection is included (for those that want to use the Cano
6

IBM Connections Cloud enhancements for June 2017
Mon, Jun 26th 2017 11:00a Chris Miller
IBM has released what's new for IBM Connections Cloud for June 2017. Here is some of the updates Verse Verse: Preview attachments while composing a message When you compose an email message, you need to be able to preview an attachment while in Draft mode so that you're confident you're sending the correct information. Now you can! Click the attachment to preview it in the Verse window. Click X to close it and return to composing your message. Verse: Replied to and forward
5

DB2 on Cloud is renaming and something else is now Db2 on Cloud??
Wed, Jun 21st 2017 3:49p Chris Miller
IBM sent a very confusing email about DB2 on Cloud and renaming. I will just leave this here On June 22 a number of products will be renamed in our Db2 family of products That's right, Db2 "DB2 on Cloud" will be renamed "Db2 Hosted" and "dashDB for transactions" will be renamed "Db2 on Cloud. Now notice the DB becomes Db in the new name. I am not sure if that was a typo or on purpose to differentiate the products. Either way taking a product name and swapping a new product into it al
6

IBM Cisco Offering Technical Deep Dive replay
Thu, Jun 8th 2017 2:37p Chris Miller
IBM put together a webcast on the new IBM and Cisco Offering. The webcast is just under one hour. You can stream it with the blow link Watch and replay the webcast right here and even download the presentation here
7

IBM Connections Cloud enhancements for May 2017
Fri, May 19th 2017 3:18p Chris Miller
IBM has released what's new for IBM Connections Cloud for May 2017. Here is some of the updates Verse Verse: Calendar delegation Need to view or manage the calendars of others? You can now use IBM Verse to add people who have given you access to their calendar using IBM Notes. Add them to the Delegation panel, and open any managed calendar in a separate browser tab. When a new calendar notice arrives, you'll be alerted by a red badge in the calendar's browser tab. Alain Ama
6

Goodbye to IBM Open Mic Webcasts - hello JUMP sessions
Thu, May 11th 2017 2:54p Chris Miller
IBM Open Mic Webcasts have been a place for you to ask anything you wanted on a specific topic with IBM engineers and support. They quietly, and not sure what the name means, now call them JUMP sessions. I noticed this name change only due to a small notation made in a recent email announcing a webcast (JUMP??). However, the emails still look and read just like IBM Open Mic Webcasts. As a valued IBM client who has contacted technical support, you are invited to participate in an IBM Suppor