Latest 7 Posts
That time of year again – IBM Champion nominations
Wed, Oct 25th 2017

4
Tableau & MakeOverMonday – Learning new skills
Fri, Oct 6th 2017

5
What is IBM Connections? And how to explain it to users!
Thu, May 25th 2017

1
Session slides for my Engage & SNOUG sessions
Thu, May 18th 2017

2
It's conference season!
Fri, Mar 3rd 2017

2
IBM Connect 2017 – Adoption Analytics with Watson Analytics
Wed, Feb 22nd 2017

1
Distrust and its potential effect on Cloud & social
Wed, Feb 15th 2017

2
Top 10
IBM Connections Folders #1: Community Folders
Mon, Apr 14th 2014

9
Shared folders – potential security issue
Sun, Apr 13th 2014

7
IBM Connections Folders #2: Ownership of files and folders
Tue, Apr 15th 2014

6
Launch of ConnectionsExpert, getting insight into your social platform
Tue, Jun 7th 2016

6
ICONUK Slidedeck "IBM Connections Adoption Worst Practices"
Sat, Sep 17th 2016

6
Engage user group – session slides
Wed, Mar 19th 2014

5
Speaking at IBM ConnectED 2015
Wed, Dec 31st 2014

5
Fall user groups – busy times ahead!
Fri, Sep 11th 2015

5
Salesforce & IBM Connections integration – keeping your organization connected
Mon, Feb 1st 2016

5
Tableau & MakeOverMonday – Learning new skills
Fri, Oct 6th 2017

5
Connecting to Connect: Warren Elsmore about… LEGO!

Femke Goedhart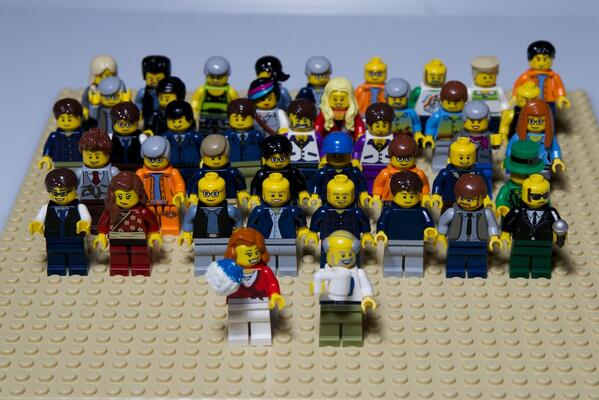 LEGO? Yes LEGO! It might be a tech conference but where there are nerds LEGO is soon to follow. No wonder that Warren Elsmore – who went from being a consultant to being a full time Lego professional and book author – is there to liven up the social cafe!
Download link – MP3
Warren Elsmore: Blog – Twitter
"Brick city – LEGO for Grown ups" (book)
The IBM Connect game leaderboard… in LEGO!


---------------------
http://feedproxy.google.com/~r/socialBusinessAsUsual/~3/1uKcqzoQ8io/
Jan 28, 2014
4 hits




Recent Blog Posts
4

That time of year again – IBM Champion nominations
Wed, Oct 25th 2017 4:14p Femke Goedhart
Every year IBM recognizes people for their outstanding work to aid and support the technical IBM community. It's a prestigious honor and a way for us all to thank those in our community that tirelessly help others. After all, it's often forgotten how much people do for each other above and beyond their normal day-to-dayContinue reading →
5

Tableau & MakeOverMonday – Learning new skills
Fri, Oct 6th 2017 8:41p Femke Goedhart
For the last few months I've been steadily training myself into a new skill: data visualization. As data analytics is an ever increasing part of my job and something I'm highly interested in, it makes sense to do so and after working with Watson analytics it seemed logical to also explore Tableau. I have toContinue reading →
1

What is IBM Connections? And how to explain it to users!
Thu, May 25th 2017 7:53p Femke Goedhart
In my work a big part of what I do is to explain both the reasons as well as the interface of IBM Connections. Why? Well because once you get the hang of it it's not that hard but to a newbie user who opens it up for the first time it can be veryContinue reading →
2

Session slides for my Engage & SNOUG sessions
Thu, May 18th 2017 5:04p Femke Goedhart
It has been a while since I posted and it's time to catch up. Times have been rather busy so this post is mostly to just distribute my slides from Snoug & engage. Both wonderful events that really do deserve a big round of applause for setting up great events for people to come togetherContinue reading →
2

It's conference season!
Fri, Mar 3rd 2017 5:51p Femke Goedhart
With IBM Connect just out of the way, SNoUG (The awesome Swiss usergroup event in zurich) coming up in just a few weeks, followed by Engage in May and then being part of the organization for Social Connections in early June my agenda is happily buzzing with event prep and travel plans. I love this!Continue reading →
1

IBM Connect 2017 – Adoption Analytics with Watson Analytics
Wed, Feb 22nd 2017 5:16p Femke Goedhart
Yesterday I had the pleasure to present with my coworker Franz Walder a session on: Socialytics: Accelerating IBM Connections Adoption with Watson Analytics These are the slides for the session. [slideshare id=72468063&doc=connect2017-dev1223socialytics-170222170058] Abstract: Social adoption is a challenge for many companies. What is the most effective utilization of the environment? Who is using which resources,Continue reading →
2

Distrust and its potential effect on Cloud & social
Wed, Feb 15th 2017 2:03p Femke Goedhart
It has been a while since I blogged. And frankly, not just blogging has been a bit on the low side, all my social media presence has. It's due to all that is been going on in the last few months in the world and that has me and I guess many others too reelingContinue reading →
2

DominoPoint MeetIT16 Conference slides
Thu, Dec 15th 2016 8:19a Femke Goedhart
Attached is my slide deck for the DominoPoint MeetIT16 conference in Milan on 14th of December 2016. 2016 DominoPoint MeetIT – 10 Things Every IBM Connections User Should Know from Femke Goedhart Original abstract: "IBM Connections is so full of features and capability, even well versed IBM Connections users, admins, community owners and managers mayContinue reading →
3

IBM Connections Explained: all about files!
Mon, Oct 31st 2016 12:00p Femke Goedhart
Ok, I admit, this one was a long time in coming but it's finally here! The next video in my little series on IBM Connections usage questions. This time it's all about files and especially about the difference between : Attachments vs Files Personal vs Community files I hope it helps explain a little whatContinue reading →
0

Excited about data!
Mon, Sep 26th 2016 3:01p Femke Goedhart
As a business consultant that focuses primarily on enabling organizations to collaborate better with their ecosystem of employees, partners and customers, a big question is always for me: "What are the numbers saying? How are our systems being used, what data is out there that I can use to analyze what is happening?". So thatContinue reading →