Latest 7 Posts
Websphere Liberty Profile and external authentication redirect
Wed, Dec 21st 2016

2
My slides of my Cloudant introduction session at Meet IT
Fri, Dec 16th 2016

2
I am an IBM Champion, again
Thu, Dec 15th 2016

2
My abstract has been accepted for IBM InterConnect 2017
Wed, Dec 14th 2016

2
Special page for my open source projects
Mon, Dec 12th 2016

1
My evolution as a developer: becoming a Full stack developer
Thu, Dec 8th 2016

2
My slides of my Cloudant session at Sutol 2016
Fri, Nov 11th 2016

2
Top 10
Cloudant connector plugin update: manage Design documents
Thu, Oct 13th 2016

9
Primefaces upload control and ClickJacking filter on IE8
Wed, Mar 11th 2015

6
XPages tip: My take on a bootstrap pager
Thu, Dec 17th 2015

6
Heads up for Salesforces Trailhead
Wed, Sep 28th 2016

5
My steps in the JSF 2.0 world
Fri, Oct 24th 2014

4
Jackson JSON mapper plugin for XPages
Fri, Feb 13th 2015

4
XPages quicktip: use the Calendar build in Months
Thu, Nov 26th 2015

4
Nice workaround to JSF 1.x EL limitation
Mon, Mar 14th 2016

4
Hello Jackson4XPages f.k.a Jackson JSON wrapper
Fri, Apr 1st 2016

4
Speaking at IconUK 2016
Fri, Aug 26th 2016

4
Xcode update breaks Bower, but there is a solution

Frank van der Linden



Recently I did some investigation to use Bower in XPages. Bower is a very powerful tool to keep all your front end frameworks updated and also keep track of dependencies.

Today I was adding Bower support to an existing XPages app, by adding the bower.json and .bowerrc files to the root of the GIT repository of this On Disk Project.

I changed the bower.json to my needs and opened the Terminal and cded to root of GIT repository and executed 'bower install'

The Bower install ended with an error, and nothing was installed.

Solution
After some searching I found that the problem, in my case as I am on a MacBook, was Xcode. On 19 September I installed an update of Xcode.
The latest Xcode has updated license agreement, and it should first be read and accepted, before you run Xcode.
In my case I only installed the update and did not started Xcode.
So Bower was blocked by Xcode to finish. Apperently Bower on Mac is using Xcode.
After I run a command to 'sudo xcodebuild -license'. The license was opened in Terminal.
After scrolling through some pages I reached the end to type 'agree'.
Next I was able to run 'bower install' without errors and everything was perfectly installed in my On Disk Project.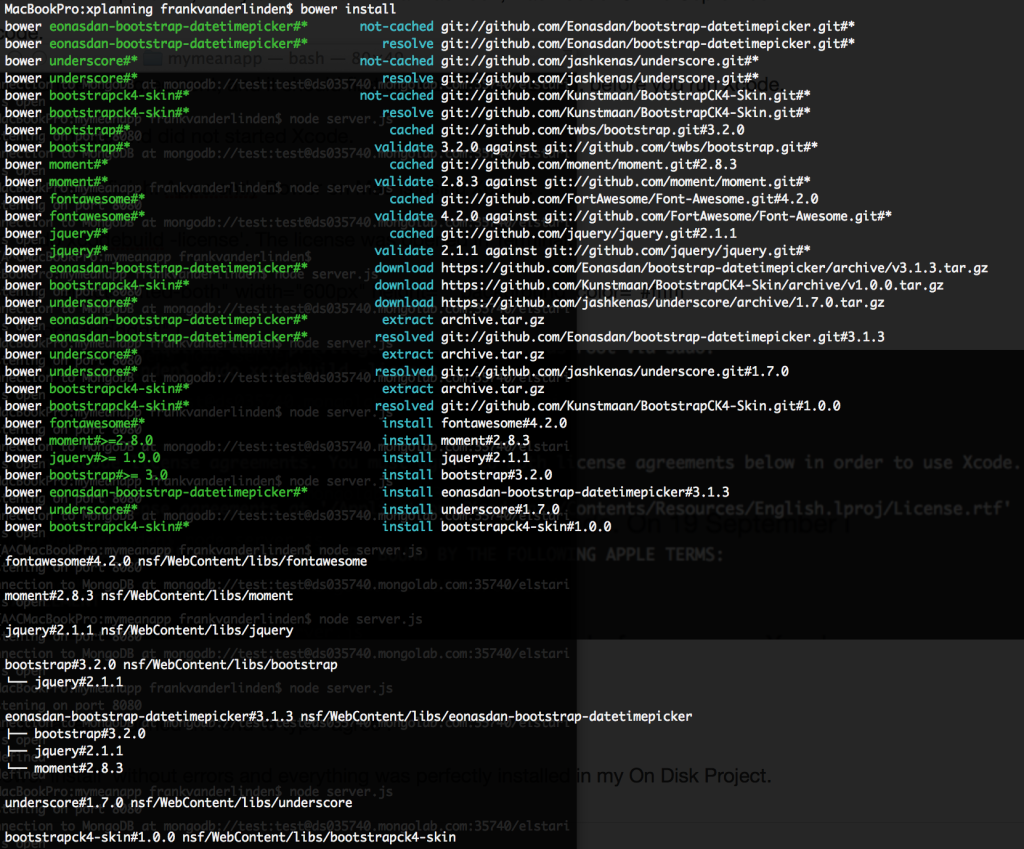 by
The post Xcode update breaks Bower, but there is a solution appeared first on elstar IT.



---------------------
http://elstarit.nl/?p=200
Sep 25, 2014
1 hits




Recent Blog Posts
2

Websphere Liberty Profile and external authentication redirect
Wed, Dec 21st 2016 7:18p Frank van der Linden
At one of my customers I was busy with the upgrade their virtual development environment. Current state Currently we run Websphere Application Sever 8 inside Rational Application Developer on a not so fat virtual development environment. Which cause lots of waiting for the developer to deploy changes of the portal to the local WAS server. We tried JRebel, but in combination with RAD I can say it is not happy couple. It caused have memory use and after a certain period a not response environment
2

My slides of my Cloudant introduction session at Meet IT
Fri, Dec 16th 2016 1:15p Frank van der Linden
Last Wednesday Meet IT conference was held at IBM Client Center in Milan. I did a session about Cloudant and how you can use it inside an XPages application. My session was in the Auditorium, a big room like a theater with good chairs, very good audio and screens. Was nice to it such big room. A (XPages) developers guide to Cloudant – MeetIT from Frank van der Linden A big thanks to Giuseppe Grasso, Daniele Grillo and Stefano Benassi for organising it. All well deserved IBM Champion
2

I am an IBM Champion, again
Thu, Dec 15th 2016 6:43a Frank van der Linden
Yesterday at MeetIT conference in Milan, Amanda Bauman, has announced the IBM Champions for ICS. I am among the 123 IBM Champions in 2017, and that makes me very happy. It is the third time after 2013 and 2014, but the first time as an Freelancer. Thanks to all how nominated me. Let see what 2017 will bring as an IBM Champion. One great event is already known, speaking at IBM InterConnect. A special attention for 2 new Dutch IBM Champions, Ronald Dekkers from Acuity and Remco Angioni, my fo
2

My abstract has been accepted for IBM InterConnect 2017
Wed, Dec 14th 2016 10:13a Frank van der Linden
Yesterday I received an email from the IBM InterConnect 2017 team with the message that my abstract has been accepted. Wow, was stunned, and happy and a little bit 'scared'…….. When the news is setting in, I was thinking of the next steps. I already made the registration, next housing and flights. And of course preparing my slide deck My session will be about our HR Assistant application we build for the ICS Development Competition, with a deep dive in the code and lesson
1

Special page for my open source projects
Mon, Dec 12th 2016 9:05p Frank van der Linden
Tonight I thought it would be a good idea to create a special page at my side with links of all my open source projects. You can find them here or at the bottom of my homepage. by The post Special page for my open source projects appeared first on elstar IT.
2

My evolution as a developer: becoming a Full stack developer
Thu, Dec 8th 2016 8:18p Frank van der Linden
Is the time of the year to have some time to reflect. Entering the IT Around 2000 I entered the IT world, first as a Domino Administrator, but after a good talk with a former colleague I made the switch to become a Developer. So I became Domino Developer and learned Formula language and later Lotusscript. Did some certifications. When the browser became more important I moved more and more to web development and did some great projects, for example I build the public website of a big insurance
2

My slides of my Cloudant session at Sutol 2016
Fri, Nov 11th 2016 11:52a Frank van der Linden
Today I did a session at Sutol conference in Prague. It was about how to get started with Cloudant as an XPages developer. A (XPages) developers guide to Cloudant from Frank van der Linden In my session I mentioned my Cloudant OSGi plugin, which can be find at https://bitbucket.org/flinden68/cloudant-connector/ by The post My slides of my Cloudant session at Sutol 2016 appeared first on elstar IT.
4

HR Assistant now as project at OpenNTF
Mon, Oct 24th 2016 1:53p Frank van der Linden
Today I have added our winning application, HR Assistant, as project at OpenNTF. I have added the source code in a zip as the release, but I encourage you to go to the Github repository directly. Included a notice and license file, which is required for every project on OpenNTF. And last but not least, there are screenshots and….. documentation Have fun with it. And a demo is in the making. by The post HR Assistant now as project at OpenNTF appeared first on elstar IT.
9

Cloudant connector plugin update: manage Design documents
Thu, Oct 13th 2016 2:31p Frank van der Linden
Yesterday I was helping out Patrick Kwinten with some he had with my Cloudant Connector plugin on Slack. He asked also about the possibility to add or modify Design Documents, I found there foundation was already there. Design Documents Design documents can be seen as the schema in your Cloudant database, which specify what is in the view and how the ftSearch index is build. Below is an example of a Design Document. As everything in Cloudant the syntax is JSON. New methods As
3

I will be speaking at Sutol 2016 in Prague
Wed, Oct 12th 2016 12:26p Frank van der Linden
Yesterday I received an email that my session has been accepted for the upcoming Sutol Conference in Prague. It is the first time I will be at SUTOL, so I am looking forward to it. I heard some very good things about this conference. Hope to see you in Prague next month, may be we can go for a short run through the city. ( The best way, in my opinion, to explore a city ;-)) by The post I will be speaking at Sutol 2016 in Prague appeared first on elstar IT.