Latest 7 Posts
Mapping Document Collections To Views | Blog
Thu, Apr 11th 2013

233
Making Google Apps For Business Behave Like a Mail Client | Blog
Wed, Apr 3rd 2013

217
Documenting Your LotusScript Classes | Blog
Wed, Mar 27th 2013

278
The Perfect Desk Quest - 2013 Update | Blog
Tue, Mar 26th 2013

242
Updating Glyphicons in Bootstrap | Blog
Thu, Mar 21st 2013

213
Easy Access to Sub-Collections of the DocumentWrapper Class | Blog
Wed, Mar 20th 2013

167
Easy Access to Sub-Collections of the DocumentWrapper Class | Blog
Wed, Mar 13th 2013

192
Top 10
The Hidden Cost of Holidays | Blog
Thu, Jun 14th 2012

839
Laplets are the Way Forward | Blog
Thu, Dec 20th 2012

718
How To Remove Voice Command From Galaxy S2 Without Rooting | Blog
Tue, Jul 10th 2012

601
How Well Do You Know LotusScript? | Blog
Wed, Jan 30th 2013

554
Are Notes Views Still Relevant? | Blog
Tue, Feb 19th 2013

520
Super Useful Set of LotusScript Wrapper Classes | Blog
Mon, Feb 4th 2013

424
How to Do Infinite Scrolling in Domino | Blog
Wed, Mar 6th 2013

423
Be Careful With Custom HTML Attributes (Dojo) | Blog
Mon, Dec 10th 2012

418
Infinite Scrolling Views in Domino | Blog
Thu, Feb 21st 2013

396
My Birthday Present to Me | Blog
Fri, Jan 11th 2013

371
The Hidden Cost of Holidays | Blog
We just got back from a 10 day break in Menorca, Spain, at a "5 star" all-inclusive resort. You can probably imagine that, as there are five of us and it was half term, this didn't come cheap. Which makes it all the more annoying when an expensive holiday gradually becomes more and more expensive due to the extra hidden costs associated with travel today. Of which there are many.
The most annoying additional cost came in the form of "data roaming" charges. Annoying because I was well aware of the pitfalls of using a smartphone in Europe and had made sure Karen knew not to enable roaming on her iPhone and I only enabled it twice a day on my S2 to download email before quickly disabling it again.
Both Karen and I are with Tesco mobile who charge 4GBP (~7USD) per MB. Criminal, I know. When we first arrived in Punta Prima (a tiny holiday resort on a small Spanish holiday island) I was half expecting no data connection at all, but was pleasantly surprised to see a H+ icon meaning I had 4G speeds!
For the first 5 days I kept the total usage below 1Mb. Then, on the sixth day, Android decided to check for updates to my installed apps and then started downloading them. Luckily I noticed the arrow icon that meant it was doing this and quickly turned off data roaming. Not before it had downloaded half of a 20MB update though! Even though I acted quickly the fact the resort was covered by 4G meant I'd already been stung.
Before re-enabling data roaming I made sure that in Google Play (formally Google Market) I had disabled auto-updating apps and made sure updating "via Wi-Fi only" was enabled. Assuming I was then safe I turned on data roaming. Only to find it continued to update more apps. This happened a few other times until I stopped trying (20MB later) and opted to buy 24hr of wi-fi from the resort's reception to let it continue all the app updates that way.
It seems to me that once Android knows there are updates it ignores subsequent changes to the how and when you want updates to happen until it next checks and there's nothing you can do to stop the ones it knows about.
Normally you could simply use Google Play to see a list of Installed apps that have updates available and you can could simply remove them. But - without an internet connection, Play doesn't work at all, as you can see below. Very annoying.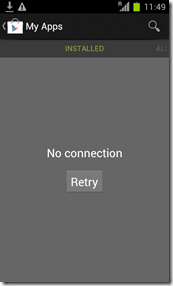 A day after all this happened and Tesco send an SMS to tell me my account is disabled. I then had no phone at all. Not even the ability to SMS or call!! Needless to say that's not good.
Now I'm home and logged on to my Tesco mobile account I see I racked up 134GBP in charges. Although they're limiting it to 40GBP as per the EU opt-in legislation. Or at least I hope they are. I'd ring and ask but it's under Karen's name and they won't talk to me without her consent and she's at work. It's all a massive PITA.
Conspiracy?
So who gets what cut of the 4GBP for each MB? Tesco or MoviStar? Let's assume most goes to the local provider -- MoviStar. This would explain the oddity of having super-fast data-connectivity in a holiday resort, would it not? It's in their interest to cover holiday resorts with 4G connections! The more data that the unsuspecting holiday makers can use while away the more money they make.
What I'm most annoyed with is the Android OS though!
Seriously, Android, you know that I'm roaming, you know it expensive (you told me so yourself) so why the hell would you update my apps? No, come on, really!?
If I'd been stung for 130 quid because of essential business access for emailing customers I could bring myself to terms with that. But all I have to show for the massive great bill is a few updated apps. In other words nothing at all.
If you going away this summer and have an Android phone. Be aware! Although on July 1st new EU laws cap the per MB cost at 0.7EUR!



---------------------
http://www.codestore.net/store.nsf/unid/BLOG-20120614-0523
Jun 14, 2012
840 hits




Recent Blog Posts
233



Mapping Document Collections To Views | Blog
Thu, Apr 11th 2013 4:00a Jake Howlett
It's now a couple of months since I wrote about a Super Useful Set of LotusScript Wrapper Classes, which I've written about on and off since February. Today I want to share a few more extensions I've made to them, which help massively when it comes to getting documents from views. Imagine the following use scenario: Dim factory As New CustomerFactory() Dim coll As CustomerCollection 'Let's get a collection from a view Set coll = factory.GetAll() 'Or you could to this Set coll = factory [read] Keywords: domino lotusscript notes database
217



Making Google Apps For Business Behave Like a Mail Client | Blog
Wed, Apr 3rd 2013 4:16a Jake Howlett
So, I mentioned that I've moved to a new PC and, for the first time in years, I didn't install a dedicated Mail client/app. Instead I'm using direct web access to Google Apps For Business (posh name for paid-for Gmail). The one thing I never liked about using Email in a browser is that I constantly close and re-open the browser. Thus, in effect, closing my email client, which I then have to remember to re-open. Now though I've made it seem like a real app. You can do this using Chrome's "a [read] Keywords: application email google
278



Documenting Your LotusScript Classes | Blog
Wed, Mar 27th 2013 4:00a Jake Howlett
Just a quick LotusScript tip: Hopefully you've been inspired by my recent adventures in creating custom LotusScript classes. If so, you'll have noticed that, when creating your own properties and methods in these classes that they get their own comments added in. For example, if you type "property get foo as string" and then press return, you'll see something like this:%REM Property Get Foo Description: Comments for Property Get %END REM Property Get Foo As String End Property Domino De [read] Keywords: domino lotusscript properties
242



The Perfect Desk Quest - 2013 Update | Blog
Tue, Mar 26th 2013 6:20a Jake Howlett
It must be time for another update on how my desk is evolving towards the elusive "perfect desk". Previous updates here. Here's my desk now, following a recent overhaul: The two main differences from before: The Lenovo T400 laptop and its docking station have gone and the left-most monitor has moved positions to be on the right. My desk needs to not only keep up with the way I work, but also the changes of the times. I decided it was time I got "with the times" and "embrace the cloud" an [read] Keywords: domino lotus notes database development email laptop microsoft office outlook server vm
213



Updating Glyphicons in Bootstrap | Blog
Thu, Mar 21st 2013 4:00p Jake Howlett
Using Bootstrap, whenever I want to an icon to an element, I simply write HTML like this: Add New And I get something like this: The choice of icons is documented here and the icons themselves are based on Glyphicons "halflings". All is good. However, recently I found myself wanting to use an icon to show that a document had some attachments. Naturally, I wanted a paperclip. Just like a magnifying glass denotes searching, a paperclip denotes a file attachment. Who knows why! To my sur [read] Keywords: css twitter
167



Easy Access to Sub-Collections of the DocumentWrapper Class | Blog
Wed, Mar 20th 2013 12:30p Jake Howlett
My favourite feature of the Wrapper Classes I keep going on about is the ready access they can give to any given class's related sub-classes. For example, let's say you have an object based on the Customer class and you want to find all their Invoices. Wouldn't it be nice to write code like this in a WQO agent:Dim customer As Customer, invoice As Invoice Set customer = New Customer(web.document) If customer.Invoices.Count > 0 Then Set invoice = customer.Invoices.getFirst() While Not i [read] Keywords: agent properties





192



Easy Access to Sub-Collections of the DocumentWrapper Class | Blog
Wed, Mar 13th 2013 4:20a Jake Howlett
My favourite feature of the Wrapper Classes I keep going on about is the ready access they can give to any given class's related sub-classes. For example, let's say you have an object based on the Customer class and you want to find all their Invoices. Wouldn't it be nice to write code like this in a WQO agent: Dim customer As Customer, invoice As Invoice Set customer = New Customer(web.document) If customer.Invoices.Count > 0 Then Set invoice = customer.Invoices.getFirst() While Not [read] Keywords: agent properties
227



Creating New Documents Based on the DocumentWrapper Class | Blog
Mon, Mar 11th 2013 7:20a Jake Howlett
So far, we've seen how to "wrap" an existing document inside a custom class, which is based on the DocumentWrapper subclass. But the document we wrap doesn't have to exist. We can use the DocumentWrapper classes to handle creation of new documents. Imagine that, anywhere in your LotusScript, you could write this: Set invoice = New Invoice(web.database.CreateDocument) invoice.Number = factory.GetNextInvoiceNumber() invoice.Value = 12345.98 invoice.Save() Wouldn't that be cool!? It's quite [read] Keywords: lotusscript database properties
371



Extending The LotusScript Wrapper Classes | Blog
Fri, Mar 8th 2013 3:03a Jake Howlett
The wrapper classes I blogged about in February went down a lot better than I thought they might. So, taking it further. Let's extend the DocumentWrapper class some more. Since first writing about them  on here I've been busy using and extending them as I go. Here are a few examples of some of the properties I've added Simple Helper Properties Some very simple properties: WebLink, UNID and IsNew. Property Get WebLink As String WebLink = "/" + Replace(web.database.Filepath, "", "/" [read] Keywords: domino lotusscript database properties
423



How to Do Infinite Scrolling in Domino | Blog
Wed, Mar 6th 2013 3:00a Jake Howlett
Last week I linked to a Domino-based infinite-scrolling view demo and promised I'd write up how I did it. Even though the reaction to the demo was mixed I'm a man of my word, so here goes. It always surprises (worries!) me when I'm asked to either share a downloadable copy of a demo or write a how-to about it. Particularly when it's something that's all but completely web-based. The code is there to see; just a click away. That said, in this case, unless you're familiar with jQuery and/or [read] Keywords: agent domino lotusscript notes ajax application development server