Latest 7 Posts
A Tool I Made To Export From Notes to SQL (ETL) | Blog
Tue, Jan 14th 2014

102
The Perfect Desk Quest - 2013 Update (Part 2) | Blog
Wed, Dec 11th 2013

63
Recovering a Laptop After Forgetting Windows and BIOS Password | Blog
Wed, Dec 4th 2013

77
Rockall Design Now in its 11th Year! | Blog
Fri, Nov 1st 2013

60
Using Font Awesome Icons in Fireworks | Blog
Mon, Oct 14th 2013

99
Document Action Logs, Including "Limitless" User Comments | Blog
Wed, Sep 25th 2013

264
Bootstrap Advanced Date Picker Plugin | Blog
Fri, Sep 6th 2013

119
Top 10
Document Action Logs, Including "Limitless" User Comments | Blog
Wed, Sep 25th 2013

264
The Hidden Cost of Holidays | Blog
Thu, Jun 14th 2012

255
Money Saving Expert
Wed, Jun 15th 2011

176
Bootstrap Advanced Date Picker Plugin | Blog
Fri, Sep 6th 2013

119
A Tool I Made To Export From Notes to SQL (ETL) | Blog
Tue, Jan 14th 2014

102
Using Font Awesome Icons in Fireworks | Blog
Mon, Oct 14th 2013

99
How To Remove Voice Command From Galaxy S2 Without Rooting | Blog
Tue, Jul 10th 2012

88
Solution to Java Applet Puzzle | Blog
Fri, May 4th 2012

82
Recovering a Laptop After Forgetting Windows and BIOS Password | Blog
Wed, Dec 4th 2013

77
Web Services: Using Complex Types | Blog
Mon, Apr 16th 2012

73
Full Colour Spectrum Color Picker For Flex
Flex comes with it's own built-in ColorPicker component, which looks like this:
It works well, but you have to click on it little picker square (see above, left) to open the picker itself and, once open, you're then limited to the web-safe colour palette.
The other day I wanted a picker that was always on show and allowed any colour to be chosen. After a search I found this solution which builds a spectrum of colours on the fly (worth a look just to see what is possible with Flex). The trouble with it, for me, was the lack a greyscale and being unable to choose white as a colour. Not having time to figure out how to modify it to meet these two requirements I took a different tact. Instead of generating the spectrum on the fly I embedded the following image: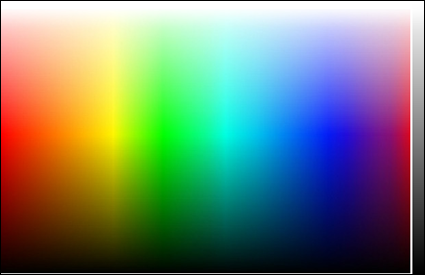 This is based on this image, which I modified in Fireworks to add the grey-scale bar and the white fade at the top.
I then embedded this Image in the Flex component and came up with this (working demo):
Click on the colour swatch to change the app's background colour. You can download a demo Flex app here with the self-contained component (based loosely on the one linked to above). Enjoy.



---------------------
http://www.codestore.net/store.nsf/unid/BLOG-20110414-0347
Apr 14, 2011
18 hits




Recent Blog Posts
102



A Tool I Made To Export From Notes to SQL (ETL) | Blog
Tue, Jan 14th 2014 6:10a Jake Howlett
As I watch all my customers leaves Notes/Domino behind, all I can do is try and assist as best I can. As part of this process I've found myself creating a Notes-to-SQL export tool. The tool is Notes-based and involves the following three part process: Step 1. Loop through and analyse every single document in the target database and build a list of all unique combinations of Form + Field + Data-Type. For each combination it finds, a Notes document is created which lists the Form name, the Fie [read] Keywords: domino lotus notes rich text database server sql
63



The Perfect Desk Quest - 2013 Update (Part 2) | Blog
Wed, Dec 11th 2013 3:10a Jake Howlett
Back in March I updated you all on how my on-going quest for the perfect desk was coming along. Here now is another update. Question: Can you ever have too many monitors or enough "real estate" desktop size? Answer: No! Here's how my desk looks now: From left to right, there's a (newly-added) Dell U2713H (showing OS X), a Dell U2711 and a Samsung SyncMaster 245B (both showing the same Windows 7 PC). All in there are 9,676,800 pixels glaring back at me!! Aside from adding a brand new monito [read] Keywords: desktop mac
77



Recovering a Laptop After Forgetting Windows and BIOS Password | Blog
Wed, Dec 4th 2013 3:10a Jake Howlett
My sis-in-law loves a bargain (she's from Yorkshire!) and recently rang to ask me (via her sister, my wife) if I'd be able to recover a laptop she'd been offered, before she went ahead and bought it. Apparently the owner of the laptop had forgotten the Windows password and had written the laptop off as worthless, so was willing to sell for next-to-nothing. I said yes, I'd able to do something with it. What I didn't realise was that it might have a BIOS password, which it did! Initially I' [read] Keywords: google laptop password
60



Rockall Design Now in its 11th Year! | Blog
Fri, Nov 1st 2013 4:00a Jake Howlett
Rockall Design ltd (the little company I run from the office-slash-garage in my garden) was 10 years old yesterday. It's customary on this day each year that I plot a chart of turnover growth over the years. So, here it is: As you can see it's been a bumper year. Last year I put down what, at the time, I thought was a good year to: Long hours and 'hard' work. But mainly luck! This year is much the same. Although, if I thought I was doing long hours back then I had no idea what was in stor [read] Keywords: domino lotus microsoft office
99



Using Font Awesome Icons in Fireworks | Blog
Mon, Oct 14th 2013 4:00a Jake Howlett
The font-based web icons from Font Awesome is brilliant. Especially when used in conjunction with Bootstrap. You can quickly and easily add any one of the icons to your HTML buttons (or many other elements for that matter). Like so: Sometimes though, you can't use web fonts. Either you can't rely on them being supported or, for some other reason, you just want to use an image file. That was the case for me recently and I wanted an image file of an exclamation mark. Here's how easy it was usi [read] Keywords:
264



Document Action Logs, Including "Limitless" User Comments | Blog
Wed, Sep 25th 2013 4:00a Jake Howlett
Action Logs are something I'm sure we've all added to the bottom of a Domino web form. Here's an example of one I added to a recent Domino-based app I created and then wrapped with Bootstrap. The log is shown to the user as a three column table(when, who, what) with the latest action first. My approach to storing this data has always been to use a single multi-value text field. The value stored might look something like this:24/09/2013 17:08:12^^24 Sep '13^^17:08^^Joe Bloggs/ROCKALL^^Docum [read] Keywords: admin agent domino lotusscript ajax css email





119



Bootstrap Advanced Date Picker Plugin | Blog
Fri, Sep 6th 2013 4:00a Jake Howlett
For some time now I've been creating date fields in Bootstrap-based websites that look like this: Clicking either in the field or on the button next to it launches a date-picker, like this: In the Notes Form the Date Field is configured in such a way that it accepts dates in the format 12-Dec-2009 (while storing them in normal Notes DateTime format of course). The field properties are like so: It all works well and users like them. Not least because there's no confusion over whether it' [read] Keywords: domino notes application javascript properties
41



Quick Tip: Login To Same Site as Two Different Users | Blog
Tue, Aug 20th 2013 12:00p Jake Howlett
Here's a tip I discovered kind of by accident in one of those "I wonder if" moments. It came about after discovering a Fiddler tip that lets you trace localhost http traffic. The solution is simple: you simply add a trailing space, so that you surf to http://localhost./ At first I'd assumed that this was some odd quirk in the way browsers handled host names. Turns out it's actually working the way it should. Technically speaking all FQDNs should have a trailing space, in order to make them [read] Keywords:
68



How To: Virgin Media + BT Infinity = Reliable Internet Connection? | Blog
Mon, Aug 12th 2013 4:03a Jake Howlett
The quest for an always-on internet connection is almost at an end! As if to assure me it was worth it, within 24 hours of Virgin Media connecting my secondary (failover) broadband connection the "primary" BT line went down. Again. For the third time in as many months. This time, however, I was prepared and had a backup connection and could carry on working. The BT engineer that came this time was very helpful. Bordering on apologetic for the fact I'd had so many visits of late. So much so he [read] Keywords: admin agent email interface wifi
40



Modern Day Communication Reliability | Blog
Thu, Aug 8th 2013 4:09a Jake Howlett
Two weeks ago today I mentioned that I'd ordered a Virgin Media cable internet connection as a redundant 2nd connection in case my first goes down. Today the engineer is due to come and connect me up. Yep, a two week wait to get connected. Luckily I'm already on the internet, otherwise there's not a chance I'd ever wait that long. Anyway, I booked a date and the AM time slot for the visit and went about "waiting". Then, yesterday I got the message below: Which sent my overly-paranoid an [read] Keywords: twitter