Latest 7 Posts
IBM Domino to Outlast Pokemon Go!
Mon, Oct 30th 2017

3
יבם דומינו נוסע ליעד שאף תוכנה עוד לא הגיעה אליו
Thu, Oct 26th 2017

4
Domino Voyages Where No Software Has Been Before
Wed, Oct 25th 2017

3
How much are your Domino Applications Worth? DAC Knows
Fri, Sep 29th 2017

6
What is this Watson Workspace thing?
Thu, Sep 28th 2017

7
Thanks Spamanda
Wed, Aug 16th 2017

4
Why Experts Save You Money
Thu, May 25th 2017

5
Top 10
What is your Candy Corn?
Thu, Sep 4th 2014

10
Mission Tools: Lotus Quickr to IBM Connections Cloud
Tue, Jan 3rd 2017

7
What is this Watson Workspace thing?
Thu, Sep 28th 2017

7
The Cube Interview from IBM Impact
Thu, May 1st 2014

6
Amazon AWS Summit in Tel Aviv in Review
Mon, Jun 29th 2015

6
The Dog Ate My Translation Homework and other stories from the ITA Conference
Thu, Feb 18th 2016

6
How much are your Domino Applications Worth? DAC Knows
Fri, Sep 29th 2017

6
Got IBM Mail yet?
Fri, Feb 28th 2014

5
Job Hunting Time
Fri, Jul 18th 2014

5
Curios Reading from 2007 About Collaborative Networks and Conflict
Mon, Nov 3rd 2014

5
The Cube Interview from IBM Impact



One of the interviews I did at IBM Impact was with Paul and John from The Cube.


Paul and I did a Google hangout last year after Sugarcon around CRM, link here.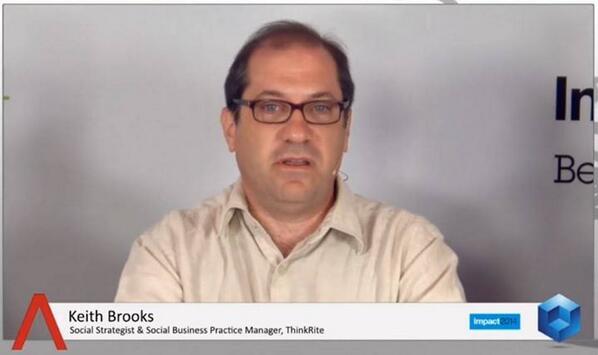 I am #5 on the list found here: http://siliconangle.tv/ibmimpact-lasvegas-2014/

This time we hit on many topics, the Opening keynote, collaboration, HR, etch a sketch, analytics, messaging, conference calls, meeting analytics and Unified Comunications.

The Silicon Angle team has some great software to slice and dice video around topics, people or whatever.

Thank you to the IBM Impact team for fitting me in among all the IBM executives links below.



Showtime:
Guests*:


---------------------
http://feedproxy.google.com/~r/LotusEvangelist/~3/RYRbs5DdQ3s/the-cube-interview-from-ibm-impact.html
May 01, 2014
7 hits




Recent Blog Posts
3

IBM Domino to Outlast Pokemon Go!
Mon, Oct 30th 2017 1:30a Keith Brooks
About a year ago I was at an IBM User Group conference in London, UK LUG in a Q and A session as part of the IBM Champions. We were asked to answer questions from the audience and one question irked me at the time and I gave an answer which a few people laughed at but I was serious. Yes, I know, hard to believe, but it is true. Tweets never lie :-), I found a tweet from Rob Mason Domino is cooler than Pokemon Go is my takeaway from the #ibm #champion session at #iconuk . Courtesy of @LotusEvan
4

יבם דומינו נוסע ליעד שאף תוכנה עוד לא הגיעה אליו
Thu, Oct 26th 2017 8:52a Keith Brooks
האם ישנה תוכנה שאינה מערכת הפעלה, ועדיין פועלת בכל פלטפורמה, יותר מ-30 שנה לאחר שהיא יצאה? אם ידועה לך, אנא הודיע לי. יבמ (חיים קודמים לוטוס Lotus) נוטס ודומינו(Notes and Domino) מתמשכים הרבה יותר מאשר ריי אוזי אי פעם חזה. ריי, אל תהסס למסור לי אם אני טועה. יבמ הודיע היום כי הפיתוח של הערות דו
3

Domino Voyages Where No Software Has Been Before
Wed, Oct 25th 2017 7:48p Keith Brooks
What software that is not an Operating System still runs on any platform, 30+ years after it came out? Come up with some, let me know. IBM (prior lifetime Lotus) Notes and Domino are going to go much further than Ray Ozzie ever envisioned. Ray, feel free to let me know otherwise. IBM today announces that development of Notes and Domino will continue indefinitely. I realize none of you reading this ever thought it would die, although certainly various executives and competitors wished it were
6

How much are your Domino Applications Worth? DAC Knows
Fri, Sep 29th 2017 1:53p Keith Brooks
Most of you reading this are my Yellowverse bubble, BPs, consultants, advisers, fellow IBM Champions and a few friends so this will not be new news to you. To the few, the proud, the admins and executives who are blessing me with a few minutes of their time, this may come as huge news, or not. You already moved your mail to the IBM SmartCloud Notes cloud mail, humor me for a minute even if you have not yet. You are sitting on a small server farm or VM landscape supporting your core, enterprise
7

What is this Watson Workspace thing?
Thu, Sep 28th 2017 12:18p Keith Brooks
IBM in recent days has made a number of announcements, some of which are more public than others, today I want to discuss Watson Workspace (WW) and Watson Wokspace Essentials (WWE). As the name implies, it is an Instant Mesaging (IM) program that, hang on, that's not right. Let's back up a second. Why the name Workspace? I have no idea, I thought it was a beta name. Seriously now, it is because the young generation of marketers were not born when us old people were using ICQ, AOL and other v
4

Thanks Spamanda
Wed, Aug 16th 2017 1:15p Keith Brooks
Our fearless leader, cat herder, rock singer, crazy cat woman has been given a chance at even more greatness and is joining Salesforce. The "XI" forum inside there grows daily it seems. She got to know all of us pretty well while she ventured across the world for all the LUGs and other events that we all have partaken in over the years. Her efforts to make our experiences as Champions memorable paid off every time. When you consider the cult of personalities that we as a group exhibit, this i
5

Why Experts Save You Money
Thu, May 25th 2017 1:00p Keith Brooks
Did you ever hear these from clients or prospective clients? "Your fees are too high!" "You want how much to do this?" "I can get a person for $10/hr why do we need you?" I have heard these, and many others too over the course of my career. Now let's hear how some others see this issue, these are general references not specific to anyone or anything. Sales advisors tell us it is because we have not sold the client on us and our solution that the price still matters. If they are not so
3

SnTT - WildCard SSL Certs and Domino....needs 32bit Windows?
Thu, May 25th 2017 9:03a Keith Brooks
This post is for me, and you, to make life easy. Some of you out there are only now adding SSL certificates to your servers, I know because you are asking me to help you, and so I present today's Show n Tell Tuesday post. There are some excellent SSL and Domino posts on this topic already from Gab Davis, Mats Ekman and Sean Cull, IBM documentation is a bit lacking in this use case so I will not point you to it. I used Gab's post a few times over the last few months and always in a situa
2

To Tableau, or Not to Tableau
Wed, Mar 8th 2017 8:00p Keith Brooks
This was the question I had as I reserved a space at the event held today here in Tel Aviv. I was supposed to go last year but was out of the country at the time.Nice view we had. Tableau is about data visualization. yes the same stuff we did 30 years ago with 1-2-3 or Excel but smooth, "simple" and flexible to work with many, many forms of data. They went public in 2013 and since have steadily grown in awareness and revenue. Tableau may not have been on everyone's radar but it is showing up
1

In Closing, the Connect CGS Speaker
Wed, Mar 1st 2017 8:57p Keith Brooks
The closing session at IBM Connect this year was probably the most educational closing session I have listened to over the years. And that is a good thing because although some closers were motivational or inspirational or imaginative, the creative process often gets hidden in the final product. Eric Whitacre, who until the session I had not looked up or heard of, was very upfront about his motivations and goals/dreams and how all of them combine to help him fulfill his music efforts.Eric has c