Latest 7 Posts
IBM Collaboration Solutions Technical Event - Jakarta, Indonesia, 2014
Mon, Dec 8th 2014

109
30th Anniversary of IRIS, and the 25th Anniversary of the Launch of Lotus Notes, 7th December 2014
Sun, Dec 7th 2014

239
New capabilities and increased storage now offered in IBM Connections Cloud in the November 2014 update
Thu, Nov 27th 2014

280
Happy 25th Birthday IBM Notes
Wed, Nov 26th 2014

309
Really excited to have 2 sessions accepted for IBMConnectEd
Wed, Nov 26th 2014

196
Mail reimagined for a NewWayToWork
Tue, Nov 18th 2014

257
Where does Mail.Next come from
Sun, Nov 16th 2014

397
Top 10
Where does Mail.Next come from
Sun, Nov 16th 2014

397
A hidden GEM - Creating links from IBM Connections that will open in the MOBILE APP rather than a browser!
Thu, Oct 30th 2014

335
Happy 25th Birthday IBM Notes
Wed, Nov 26th 2014

309
New capabilities and increased storage now offered in IBM Connections Cloud in the November 2014 update
Thu, Nov 27th 2014

280
Mail reimagined for a NewWayToWork
Tue, Nov 18th 2014

257
30th Anniversary of IRIS, and the 25th Anniversary of the Launch of Lotus Notes, 7th December 2014
Sun, Dec 7th 2014

239
Windows 8 and Lotus Notes, the big surprise is the memory
Wed, Oct 31st 2012

232
Domino Administrators ID file certificate has expired ... No Problem
Mon, Feb 21st 2011

217
How to create an iCalendar Feed from a Lotus Notes database
Mon, May 14th 2012

208
Really excited to have 2 sessions accepted for IBMConnectEd
Wed, Nov 26th 2014

196
Symbian Belle now available in Australia
Mat Newman

Wandering around the Qantas lounges last week it was obvious that Nokia's market share in Australia is declining - as it is in other parts of the world - with the most visible device being the obligatory iPhone. My own device preference remains the

Nokia E7

, mainly due to the excellent Telephone capabilities (it is a Phone after all), in addition to the form factor; including a large physical keyboard, and the flip-up screen, which I really like working with. The hardware is just as important to me as the OS, which in the case of Symbian, has menu's on every screen providing an array of choices and a really nice 'hold' feature (similar to a right-click) that allows me to easily action most items in a list.

Over the last few days Symbian Belle - the latest iteration of Nokia's S30 Symbian based operating system - was made available for users in Australia. There are still a few model phone's for which the update is unavailable due to carrier specific implementations of the operating system, but for those with unlocked devices you should be able to access the update from within the device settings, for others you can check your availability here: http://europe.nokia.com/find-products/nokia-belle-update/nokia-belle-update-availability

Obviously the first thing I did after the update wiped many of my installed applications (beware of this one!) was to put IBM Lotus Traveler and IBM Sametime back on my device. Traveler installed without a hitch, but none of the versions of Sametime I have for Symbian (8 through to 8.5.2) are compatible with 'Belle'. Each simply refused to install with an invalid certificate option. I will be attempting this again over the next few days to see what is required to have the 'Nokia E-Series' Sametime client working on my Nokia E-7 running 'Belle'.

Most of my applications reinstalled with the latest updates and versions specific for 'Belle' from the 'My Apps' link inside the Nokia 'Store' (formerly 'Ovi Store' - look for the same icon, without Ovi in it's description). As I have mentioned before, the inclusion of 'My Apps' in the Nokia store makes it really easy to get apps back on to your device if you ever need to wipe it, or move to a new Nokia (Symbian) device.

First impressions; the new features I found that deserve a big thumbs-up:
The Notifications pull-down,
The

vastly

improved on-screen keyboard,
Better multi-tasking and faster application navigation screens,
Simplified and better organised menu's,
Home screen icons (across 6 home-screens now instead of 3) have text descriptions on them, great when many of these are web-site bookmarks
Better organisation of options screens.
What seemed to be more difficult:
Switching between profiles,
Enabling Battery 'Power Saving' mode,
Opening 'Messaging' (where the IBM Lotus Traveler folders live) no longer goes to the 'Folders' view, it goes straight to conversations.
Switching between profiles:

In the base install, the only visible way to switch profiles is to open the "Notifications' screen by pulling down from the top menu, and using the single toggle option for 'Silent'. After a little playing around, if you add the 'Profile' widget to one of your home screens, it will give you the option to easily switch to the default profiles. Beware! A few of the default profiles you may be used to have been removed in 'Belle', where the choices are now:
General,
Silent,
Meeting,
Offline

Enabling Batter 'Power Saving' mode:

Jump onto the Store and search for 'Nokia Battery Monitor'. An excellent little app that makes the switch into power saving mode quick and easy, while also providing a plethora of options on battery optimisation and information about usage and projected time remaining while using a number of core applications.

Opening messaging defaults to 'Conversations' (SMS message) view:

Go to applications, either by using the main button, or the new button on the bottom menu, and hold on any application icon to get the choice to 'Add to Home Screen'. Adding Lotus Notes Traveler Mail, Contacts Look up, etc, will put the icon on the current home screen and touching it goes straight to the Lotus Traveler folders in the Messaging application.

What I didn't like:

The new sounds and tones are distinctively made with some sort of electronic 'xylophone'. These were all very quickly replaced.

Some Screen Shots: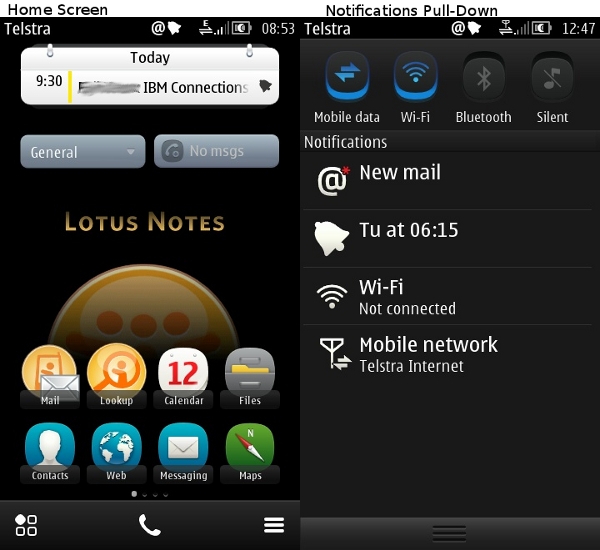 The Verdict:

A great update for Symbian devices, including late model E and N series Nokia's. Overall a better, easier layout to navigate through, with most options now more accessible through the notifications pull-down (with the exception of those listed above), more home screens means more widgets, and less wading through menu's for apps, the phone itself seems generally more responsive, faster and better at multi-tasking. Beware: battery life is affected dramatically the more 'live' widgets you include on those extra home screens! (Make sure you get the Nokia Batter Monitor from the Store)

If you have a device which supports Symbian 'Belle', I would recommend upgrading as soon as you can.


---------------------
http://www.matnewman.com/webs/personal/matblog.nsf/dx/symbian-belle-now-available-in-australia
Apr 22, 2012
65 hits




Recent Blog Posts
109



IBM Collaboration Solutions Technical Event - Jakarta, Indonesia, 2014
Mon, Dec 8th 2014 2:33a Mat Newman
Over the past few weeks we've been notifying customers and partners directly of the upcoming IBM ICS technical event being held THIS WEDNESDAY, 10th December, 2014, hosted by Prisma and AVNET, with the full support of the IBM technical team from ASEAN With over 180 registrations so far, we're looking forward to meeting with you all and discussing some of the awesome capabilities that IBM has to offer. If you haven't registered yet, there are still a few places available, please feel f [read] Keywords: admin collaboration connections domino ibm sametime xpages applications development enterprise mobile
239



30th Anniversary of IRIS, and the 25th Anniversary of the Launch of Lotus Notes, 7th December 2014
Sun, Dec 7th 2014 3:10a Mat Newman
In the past couple of days Ray Ozzie has released an awesome series of Tweets recounting the history of IRIS and Lotus Notes. Coming directly from the founder and creator of Notes, this was a series I had to collate and republish here. Thanks Ray! 1/This Sunday, Dec 7, is the 25th anniv of Lotus Notes AND the 30th of my startup Iris! A brief story, in 22 tweets. pic.twitter.com/Q96GsgVLQd— Ray Ozzie (@rozzie) December 4, 2014 2/In July '84 I pitched an mail/collab ap [read] Keywords: ibm lotus notes ray ozzie richtext desktop mac server twitter widgets
280



New capabilities and increased storage now offered in IBM Connections Cloud in the November 2014 update
Thu, Nov 27th 2014 8:59p Mat Newman
Today IBM announced a plethora of new features and capabilities on IBM Connections Cloud (Formerly IBM Smartcloud), beginning with increased storage capacity for Smartcloud Notes/iNotes and IBM Connections Files. My favourite highlights from this update: 50 Giga Byte Notes/iNotes Mail Database (Mail/Calendar/Contacts/To-Do/Notebook), 1 Terra Byte IBM Connections Files, and Audio and Video calls on Mobile Phones (previously only a feature on Tablets) Enhanced social capabilities, bette [read] Keywords: connections ibm inotes notes database integration mac mobile
309



Happy 25th Birthday IBM Notes
Wed, Nov 26th 2014 11:57p Mat Newman
Yep, it's today. IBM Notes (nee: Lotus Notes) turns 25. What an amazing milestone! Happy Birthday Lotus Notes! [read] Keywords: ibm lotus notes
196



Really excited to have 2 sessions accepted for IBMConnectEd
Wed, Nov 26th 2014 6:38p Mat Newman
Received notification overnight that I've had 2 sessions accepted for IBM ConnectEd conference in Orlando, Florida from the 25th - 28th of January, 2015. The first is #UserBlast; A session that I've really enjoyed putting together over the last few years to showcase the power and capabilities of the IBM Collaboration Platform, of course featuring the IBM Notes client. This year I'm going back to the format from a couple of years ago and doing 40 tips in 40 minutes, and the big highlight i [read] Keywords: admin collaboration ibm lotus notes notes client application desktop linkedin profile
257



Mail reimagined for a NewWayToWork
Tue, Nov 18th 2014 12:55a Mat Newman
In just a few short hours, IBM will be launching the evolution of Mail; reimagined for a new way to work. Stream "A New Way to Work" live Even if you won't be in the auditorium, you can still enjoy the event. Register now to watch live as experts, authors and futurists share their visions for "A New Way to Work." Talks will stream live 11:00 a.m. - 1:00 p.m. USA: Eastern Standard Time (EST). Replay will be available on demand approximately 3 hours after the li [read] Keywords: ibm twitter
397



Where does Mail.Next come from
Sun, Nov 16th 2014 3:17p Mat Newman
In the past few weeks I've been asked a lot of questions as we approach the signature event launch of IBM Mail Next this week on November 18th. If you haven't registered yet for the event on the 18th, do yourself a favour, the link is HERE (http://www.ibm.com/social-business/us/en/newway/event.html) The key to understanding IBM Mail Next is very simple; Mail.Next is NOT a new mail client, Mail.Next is a new way of working! So where does IBM Mail Next come from? I've put togeth [read] Keywords: collaboration connections domino ibm inotes lotus notes notes client sametime applications development enterprise integration interface server





335



A hidden GEM - Creating links from IBM Connections that will open in the MOBILE APP rather than a browser!
Thu, Oct 30th 2014 8:26a Mat Newman
Remember the absolutely awesome Google Chrome Extension for IBM Connections that I wrote about a little while ago? No? Ok - go refresh yourself on it HERE (Link: http://www.matnewman.com/webs/personal/matblog.nsf/dx/ibm-connections-search-plugin-for-chrome-browser ) You're back. Now for the good stuff. Did you know that this extension has a hidden feature that will create a link for you from an IBM Connections site THAT WILL OPEN IN THE CONNECTIONS MOBILE APP and not a browser? Yep! A [read] Keywords: connections ibm notes traveler application email google linkedin mobile profile wiki
121



A quiet farewell Lotus 1-2-3, Organizer and Smartsuite
Sun, Oct 5th 2014 11:45p Mat Newman
Last week a fairly significant date passed without much fanfare: The Withdrawal From Support (WFS) for some of the best desktop software ever created in Lotus 1-2-3, Lotus Organizer and the Lotus Smartsuite office package. This - of course - followed on from the announcement that these iconic products would be withdrawn from marketing effective the 11th of June, 2013. WFM is the term used to signify that a product will no longer be available for purchase by customers. WFS means that a prod [read] Keywords: ibm lotus symphony applications desktop development integration office openoffice
188



IBM Notes Traveler 9.0.1.2 now available on the Play Store - more new features and a fix
Mon, Sep 29th 2014 7:02a Mat Newman
Really pleased to advise that the latest update for IBM Notes Traveler client is available NOW on the Play Store There's a couple of great new features that now enable you to reply without history, and choose whether to include attachments (even those you haven't downloaded!) in your reply email messages. Great to see the development team is including new features with almost every new release of the IBM Notes Traveler client! Importantly: For those of you who have reported 'latency [read] Keywords: ibm lotus notes traveler development email google