Latest 7 Posts
Tools we use to build web apps
Sun, Sep 21st 2014

132
Status report / collection of web and mobile development frameworks and tools
Fri, Jun 27th 2014

101
Now on OpenNTF: Open Eclipse Update Site - based on IBM's template but with extended functionality
Fri, Dec 6th 2013

124
Now on OpenNTF: Mindoo XPages2Eclipse - Eclipse APIs for XPiNC applications!
Thu, Nov 28th 2013

73
New on OpenNTF: Plugin to close XPiNC applications from CSJS code / to detect Notes ID changes
Mon, Sep 9th 2013

53
New on OpenNTF: Geospatial indexing for IBM Notes/Domino data
Tue, Jul 30th 2013

66
XSS security fix in Domino R9 HTTP server may break existing web applications
Mon, Jun 3rd 2013

64
Top 10
Tools we use to build web apps
Sun, Sep 21st 2014

132
Now on OpenNTF: Open Eclipse Update Site - based on IBM's template but with extended functionality
Fri, Dec 6th 2013

124
Status report / collection of web and mobile development frameworks and tools
Fri, Jun 27th 2014

101
Now on OpenNTF: Mindoo XPages2Eclipse - Eclipse APIs for XPiNC applications!
Thu, Nov 28th 2013

73
Notes 8.5.1: The new Java UI classes and Domino Designer extensibility API
Sun, Oct 11th 2009

71
New on OpenNTF: Geospatial indexing for IBM Notes/Domino data
Tue, Jul 30th 2013

66
Fast Notes view reading via Java API:New ViewNavigator cache methods in 8.5.3
Thu, Jan 17th 2013

64
XSS security fix in Domino R9 HTTP server may break existing web applications
Mon, Jun 3rd 2013

64
The View article: Add LSDoc Support to Domino Designer on Eclipse with Custom Plug-ins (download link included)
Thu, Jul 22nd 2010

63
XPages series #9: How to debug an XPages application
Tue, Jul 20th 2010

56
Download link for my Entwicklercamp 2012 session slides about NoSQL databases (German)
Karsten Lehmann

Here are the slides for my session about NoSQL databases at Entwicklercamp 2012 today. For the non-German audience: sorry for the German content, I hope Google translate will help. :-)
I plan to translate them to English, but this may take some time.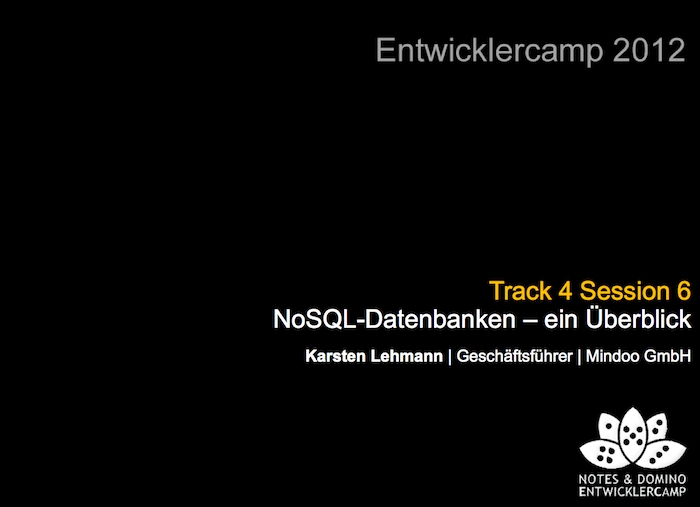 I wil also write blog entries about my two demos: leveraging the MongoDb geo index feature from an XPages application and embedding the Neo4J graph databases in XPages (travelling salesman algorithm to find the best route in a graph).

---------------------
http://www.mindoo.com/web/blog.nsf/dx/27.03.2012190043KLEMY2.htm
Mar 27, 2012
34 hits




Recent Blog Posts
132



Tools we use to build web apps
Sun, Sep 21st 2014 4:08p Karsten Lehmann
In a recent comment in this blog, Andrew Magerman asked what frameworks I use to build web applications and whether we have looked into Angular. Since the answer got too long for a simple comment and might be interesting for others, I created this blog article. Server side I am using my own regexp based templating system, which simply fills some placeholders in static HTML and JS files and sends them to the browser, e.g. to compute URLs, to insert translated phrases and include content of ot [read] Keywords: domino ibm application applications database desktop development facebook integration java javascript mobile network server twitter
101



Status report / collection of web and mobile development frameworks and tools
Fri, Jun 27th 2014 2:34a Karsten Lehmann
The last post in this blog has been written 6 months ago. Although I have had several ideas for new posts, project work and family life got in the way (our son was born last September). At Mindoo, we have been incredibly busy working on development projects and product prototypes. Some of them are still IBM Domino based with Responsive Web Design using Bootstrap and jQuery or Sencha's ExtJS, others are pure JSF applications using the Primefaces framework. In other projects, we produced E [read] Keywords: domino ibm notes notes client applications database development interface java mobile server twitter wiki
124



Now on OpenNTF: Open Eclipse Update Site - based on IBM's template but with extended functionality
Fri, Dec 6th 2013 11:23a Karsten Lehmann
I just created a new project on OpenNTF called "Open Eclipse Update Site". The Open Eclipse Update Site database is based on the OpenNTF project "Eclipse Update Site (updatesite.ntf)" from IBM with additional functionality, e.g. Mac Notes Client support (no SWT error messages like in the original template) View action to delete selected features from the database (no need to delete all like in the original template) Support for headless builds (automatic generation of update site, e.g. [read] Keywords: agent ibm notes notes client ntf database eclipse mac openntf server
73



Now on OpenNTF: Mindoo XPages2Eclipse - Eclipse APIs for XPiNC applications!
Thu, Nov 28th 2013 12:07p Karsten Lehmann
I just created a new project on OpenNTF: Mindoo XPages2Eclipse. Our toolkit, which provides extensive Eclipse APIs to XPages developers in the IBM Notes Client (XPiNC), is now available for free! Here is the project description: XPages2Eclipse is a language extension for XPages-development within the Lotus Notes Client Find out how XPages2Eclipse simplifies the development of XPages-applications for the IBM Lotus Notes Client considerably. With the help of this extensive toolkit you w [read] Keywords: domino ibm lotus lotusscript notes notes client symphony xpages application applications css desktop development dojo eclipse integration java javascript linux mac mobile openntf server wiki
53



New on OpenNTF: Plugin to close XPiNC applications from CSJS code / to detect Notes ID changes
Mon, Sep 9th 2013 2:26p Karsten Lehmann
There is a new project on OpenNTF that I created a few days ago: Mindoo Xulrunner Prefs.js Management Plugin. It's nothing big, only a small Eclipse plugin that can be installed in the Notes Client to manage the preferences of the Xulrunner engine that renders XPages in the Notes Client (XPiNC). The main purpose for this is to set the property "dom.allow_scripts_to_close_windows" to false on a number of machines (the plugin can be deployed via policy). This enables XPages applications to [read] Keywords: ibm notes notes client xpages application applications community eclipse javascript openntf password xml
66



New on OpenNTF: Geospatial indexing for IBM Notes/Domino data
Tue, Jul 30th 2013 5:08p Karsten Lehmann
Last weekend I created a new project on OpenNTF.org, which is part of a pretty big "pet project" that I have been working on for several month and that will hopefully be ready for primetime someday. My original plan was to submit this pet project for the last XPages development contest, either in addition to or instead of the Mindoo FTP Server, but the project got bigger and bigger over time - and an FTP server was finally easier to polish and explain than my other idea. This idea has to [read] Keywords: domino ibm notes xpages apple applications database development google interface openntf server wiki





64



XSS security fix in Domino R9 HTTP server may break existing web applications
Mon, Jun 3rd 2013 3:36p Karsten Lehmann
Last week we noticed that two of our web applications did not work as expected after upgrading our servers to Domino R9. We tracked down the issue and found the problem: In one REST API call, we have a query string parameter that contains a Domino fulltext query to filter the entries of a Notes view. Domino now reported that the query syntax was wrong. The same code had worked in 8.5.3. The reason is that the Domino R9 HTTP server contains a security fix to prevent applications from being v [read] Keywords: domino ibm lotus notes application applications javascript security server xml
41



Entwicklercamp 2013 slides about "Dojo 1.8 and AMD" now available in English
Fri, May 24th 2013 12:56p Karsten Lehmann
My slides about "Dojo 1.8 and AMD" are now available in English. I have updated my original blog article: My EntwicklerCamp 2013 slides: Dojo 1.8 and AMD [read] Keywords: dojo
31



My EntwicklerCamp 2013 slides: Dojo 1.8 and AMD (German)
Wed, Mar 13th 2013 8:12a Karsten Lehmann
The closing session of EntwicklerCamp 2013 has just finished. Here are the slides for my EntwicklerCamp 2013 session about "Dojo 1.8 and AMD": Download archive: Slides as ZIP-Archive To all English speaking readers: Google Translate is your friend - the slides are in German :-) My plan is to translate them to English though and publish my demos as soon as possible. [read] Keywords: archive dojo google
36



Quick tip: Fixing Dojo drag and drop issues in a Windows 8 VMWare on the Mac
Wed, Mar 6th 2013 11:59p Karsten Lehmann
I am currently setting up a new dev environment with Windows 8 and Notes/Domino 9 to work on demos for my Dojo 1.8/AMD session at Entwicklercamp next week. To my surprise, I noticed yesterday, that drag and drop operations on Dojo widgets did not work as expected. For example, I could not drag the splitters of a BorderContainer layout widget and the columns of a LazyTreeGrid could not get resized. It seemed as if mouse events got lost, but I only got that effect in Firefox and Chrome. In IE, [read] Keywords: domino notes dojo firefox mac vmware widget widgets