Latest 7 Posts
Domino Change Password Application
Tue, May 9th 2017

5
Error "Can't rename old nsd.exe – access problem" during Domino upgrade
Thu, Jun 2nd 2016

8
IBM Domino Policies – Deep dive and best practices
Wed, Jun 1st 2016

8
What's New in Community and Files with IBM Connections 5.5
Mon, May 23rd 2016

8
How to finding and contacting an expert with IBM Connections
Mon, May 23rd 2016

6
IBM Connections 5.5 and IBM Docs 2.0 Installation Guide
Sun, May 8th 2016

12
IBM Verse Training
Mon, Apr 25th 2016

10
Top 10
IBM Connections 5.5 and IBM Docs 2.0 Installation Guide
Sun, May 8th 2016

12
IBM Verse Training
Mon, Apr 25th 2016

10
How to install a hotfix or an interim fix on a Domino server
Tue, Nov 3rd 2015

9
How to troubleshoot iNotes – Part 2
Mon, Dec 21st 2015

8
What's New in Community and Files with IBM Connections 5.5
Mon, May 23rd 2016

8
IBM Domino Policies – Deep dive and best practices
Wed, Jun 1st 2016

8
Error "Can't rename old nsd.exe – access problem" during Domino upgrade
Thu, Jun 2nd 2016

8
How do I give someone access to manage my mail?
Sun, Dec 13th 2015

7
How to change the color of read and unread messages
Sun, Dec 13th 2015

7
How to change login prompt displayed in the browser into html page
Mon, Dec 14th 2015

6
How to change login prompt displayed in the browser into html page

admin



By default, when domino users login to domino server from browsers, the users will have login prompt displayed in the browser. The Question is, how to change this into HTML page?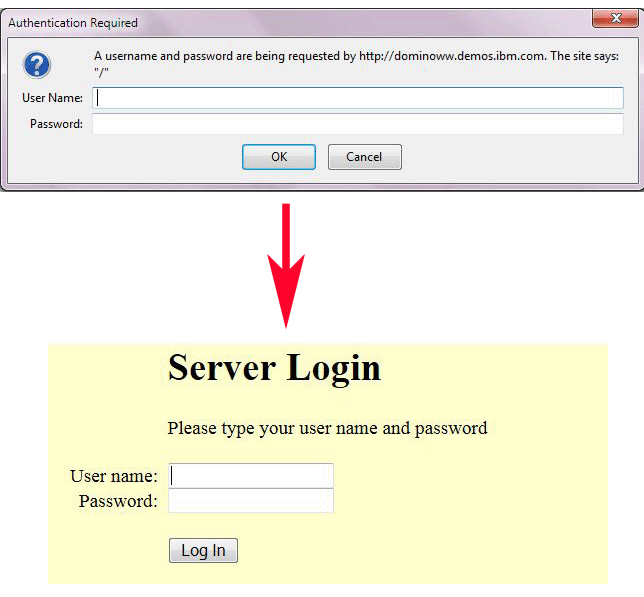 Depending on the session authentication configuration of your Lotus® Domino® HTTP server, you will see a different log-in prompt displayed in the browser. The four choices for session authentication are SAML, Disabled, Single Server, or Multiple Servers (SSO).



---------------------
http://notesdominohowto.aregoodmag.com/how-to-change-login-prompt-displayed-in-the-browser-into-html-page/
Dec 14, 2015
7 hits




Recent Blog Posts
5

Domino Change Password Application
Tue, May 9th 2017 12:01p Notes Domino How To
I found this interesting apps when looking for information on youtube. Cool apps building on top of Domino. Nice UI! Download the apps from here https://drive.google.com/file/d/0BzMqfdLLIBM_ZGFHeXNJZDE2aU0/view
8

Error "Can't rename old nsd.exe – access problem" during Domino upgrade
Thu, Jun 2nd 2016 6:09a Notes Domino How To
I attempts to install a Domino Fix Pack on a Lotus Domino server fail with the following error: "Can't rename old nsd.exe: access problem" Failed to upgrade Notes. See the file UPGRADE.LOG for more information. As I know, nsd.exe is a Domino Diagnostic service and seems was running.  Maybe when I was  about to upgrade, I was not completely close Notes Client or Domino Administrator proplerly. So, I open task manager, go to tab "Process" then click ̶
8

IBM Domino Policies – Deep dive and best practices
Wed, Jun 1st 2016 2:35a Notes Domino How To
Many of Domino Admins I ever meet still not aware of the policies, and doesn't have clue or figure out how its works. Here is in this presentation by Mark A. Skurla, IBM Advisory Software Engineer, Domino Administration Team Lead will show more and deep dive about Domino Policies. And here is the presentation slide version.