Latest 7 Posts
XPages Goes Responsive
Fri, Dec 5th 2014

298
Latest Release of Extension Library Brings Bootstrap, jQuery, Responsive Design and More
Thu, Nov 20th 2014

311
OpenNTF at November User Groups
Thu, Nov 13th 2014

207
Cast, Counted and Audited - Here are the results of the OpenNTF Board Election!
Thu, Oct 2nd 2014

186
OpenNTF Election will end October 1.
Fri, Sep 26th 2014

99
The OpenNTF Vote is next week!
Tue, Sep 16th 2014

88
OpenNTF Board Elections
Thu, Aug 28th 2014

134
Top 10
IBM Connect 2014 - BP207 - Don't Reinvent the Wheel - (Re)use Open Source Software From OpenNTF
Tue, Feb 4th 2014

320
Latest Release of Extension Library Brings Bootstrap, jQuery, Responsive Design and More
Thu, Nov 20th 2014

311
XPages Goes Responsive
Fri, Dec 5th 2014

298
OpenNTF at November User Groups
Thu, Nov 13th 2014

207
Cast, Counted and Audited - Here are the results of the OpenNTF Board Election!
Thu, Oct 2nd 2014

186
OpenNTF Board Elections
Thu, Aug 28th 2014

134
XPages RDBMS Support - Recent Improvements
Thu, Aug 21st 2014

130
On OpenNTF: PC Config - easy inventarisation of hard- & software
Wed, Jul 2nd 2014

126
Latest Release of XPages Extension Library Improves RDB Support
Tue, Jul 1st 2014

125
Announcing the Winners of the XPages Development Contest
Thu, Jun 27th 2013

117
New OpenNTF Project: XPages System Alerts
Niklas Heidloff


Declan Lynch has created a new project - XPages System Alerts. Alerts can be defined in a central database. Application pages that want to use them need to embed a custom control and point to the central database. Users will then see the alerts when opening these pages.

Check out the short video.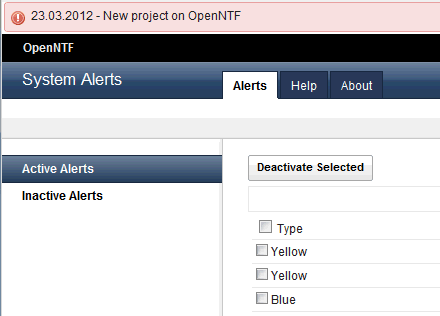 ---------------------
http://www.openntf.org/blogs/openntf.nsf/d6plinks/NHEF-8SR8RW
Mar 25, 2012
13 hits




Recent Blog Posts
298



XPages Goes Responsive
Fri, Dec 5th 2014 10:11a Padraic Edwards
As was recently announced, Bootstrap is now part of the OpenNTF XPages Extension Library, added in release 10. The ExtLib includes a new plugin that contains Bootstrap 3.2.0, providing new renderers for the XPage core controls, the ExtLib controls, and two new Bootstrap themes. An added benefit of supporting Bootstrap is that the ExtLib now includes jQuery 2.1.1, giving XPages developers the power to use jQuery in their apps as well. As most XPages developers know, Responsive Web Des [read] Keywords: ibm xpages applications blogging desktop development openntf
311



Latest Release of Extension Library Brings Bootstrap, jQuery, Responsive Design and More
Thu, Nov 20th 2014 4:11p Paul Withers
For the XPages community, this week has seen some significant announcements and releases on OpenNTF. Indeed, I don't think it's hyperbole to say this is the most significant addition of functionality since the Extensibility API and the Extension Library itself. Covering everything was a webinar yesterday reviewing progress on the Extension Library this year. If you missed it, the webinar is available on replay. The Extension Library was at the core of the announcements. The latest [read] Keywords: domino ibm notes xpages application bug community database development eclipse integration java openntf xml
207



OpenNTF at November User Groups
Thu, Nov 13th 2014 5:16p Paul Withers
Next week two board members, Christian Guedemann and Nathan T Freeman, will be representing OpenNTF at DanNotes. On Wednesday 14:30 Christian and Nathan will be presenting a session together entitled "OpenNTF and open source for developers", detailing plans for OpenNTF over the year to come. On Thursday, there are three more sessions by Nathan or Christian: 09:30 OpenNTF, Graphs, and Revolutions by Nathan T Freeman Problem: Your Domino domain has thousands of isolated dat [read] Keywords: domino notes xpages application community database development enterprise openntf profile
186



Cast, Counted and Audited - Here are the results of the OpenNTF Board Election!
Thu, Oct 2nd 2014 2:06a Peter Tanner
The votes have been cast, counted and audited, and OpenNTF has a renewed slate of Directors, five of whom are joining the Board for the first time. Member Directors: Serdar Basegmez - Developi Information Systems Jesse Gallagher – I Know Some Guys Christian Guedemann - WebGate Justin Hill – Prominic Martin Rolph - Oval Contributor Directors: Oliver [read] Keywords: openntf
99



OpenNTF Election will end October 1.
Fri, Sep 26th 2014 7:12a Peter Tanner
Ballots have now been sent to representatives of each OpenNTF Member and to all OpenNTF Contributors. If you didn't receive a ballot, please contact the ip-mamanger at openntf.org. Votes are due by October 1. [read] Keywords: openntf
88



The OpenNTF Vote is next week!
Tue, Sep 16th 2014 3:14p Peter Tanner
Ten people involved in OpenNTF's software development activities have decided to run for the eight Director positions. Six are running for the five posiitons reserved for employees of Member companies, and four are running for positions reserved for OpenNTF Contributors. The vote will be held next week. All people eligible to vote should have received an email with candidates statements. If you haven't, please contact ip-manager at openntf dot org Member Candidates' State [read] Keywords: admin collaboration domino ibm lotus notes xpages community development email openntf twitter





134



OpenNTF Board Elections
Thu, Aug 28th 2014 1:12p Peter Tanner
Nominations are now open for the OpenNTF Board Elections. Several Board members will not be standing for re-election – so there is certainly room for new blood. There are five board positions open for Member Directors (those representing OpenNTF's member companies) and three board positions open for Contributor Directors. Member Directors are elected for two years and Contributor Directors for one year. So, if you work for an OpenNTF Member company or if you are an [read] Keywords: openntf
130



XPages RDBMS Support - Recent Improvements
Thu, Aug 21st 2014 6:11a Niklas Heidloff
Below is a video from Brian Gleeson from the XPages team about improvements to the relational database support. "In recent releases of the XPages Extension Library, there have been a number of changes and additions to the feature that supports Relational Databases in XPages applications. To ensure that the XPages community is aware of these changes and their impact, the XPages development team has created the video below. The video is in two parts and each part covers the [read] Keywords: domino ibm xpages applications community database db2 development microsoft mysql openntf server sql
111



On OpenNTF: xspless - a LESS CSS Builder for Domino Designer
Thu, Jul 3rd 2014 6:12a Mark Leusink
LESS (Leaner CSS) is a dynamic stylesheet language that allows you to use variables, nesting, functions (and more) in your CSS file. LESS files can be compiled into plain CSS file. xspless is the name of a new project that Jesse Gallagher created. It is a LESS CSS Builder for Domino Designer. From the documentation: "This is an Eclipse builder plugin for Designer. By installing this plugin, right-clicking on an application, and choosing "Add/Remove LESS CSS Nature", it allows Desi [read] Keywords: domino application css eclipse openntf
126



On OpenNTF: PC Config - easy inventarisation of hard- & software
Wed, Jul 2nd 2014 6:12a Mark Leusink
Dominic Shields just released v0.23 of PC Config. This Notes client application can collect all types of information from the PC it runs on with a single click. It allows you to easily get an overview of the hard- and software in your organisation. Out of the box it shows you the collected information in various views (by OS, CPU, RAM, User, Drive space, etc.). It can also create (Excel) charts from the data it collected. Examples of the information it collects are: OS, CPU, [read] Keywords: ibm notes notes client application mac network openntf vm