Latest 7 Posts
On OpenNTF: Android App for IBM Domino Discussion Applications
Tue, May 21st 2013

107
On OpenNTF: XPages Document Locker Managed Bean
Fri, May 17th 2013

170
On OpenNTF: Extended FilteringSelected XPages Control
Thu, May 16th 2013

154
Interview with Bruce Elgort about OpenNTF
Mon, May 13th 2013

128
OpenNTF Webinar Replay has been published
Wed, May 8th 2013

134
New Release of the Trouble Ticket Application
Tue, May 7th 2013

274
On OpenNTF: Dynamically compiled XPages
Tue, May 7th 2013

249
Top 10
IBM releases the new IBM Social Business Toolkit SDK as Open Source
Tue, Dec 4th 2012

774
On OpenNTF: Intrapages - The Social Intranet
Tue, Dec 4th 2012

689
The 4th OpenNTF Development Contest: Scores for the Open and IBM Connections Categories
Thu, Dec 20th 2012

628
On OpenNTF: ProjeX - XPages based Project Management Application
Wed, Dec 12th 2012

536
On OpenNTF: XPages for Presentation
Sun, Dec 9th 2012

519
New OpenNTF Project: Generate Word and Excel Files from XPages
Wed, Jan 9th 2013

508
On OpenNTF: DocumentCollection Tool on XPages
Fri, Dec 7th 2012

479
New OpenNTF Project: IDVault Password Reset
Thu, Jan 10th 2013

458
On OpenNTF: IFrame-able View Controls
Wed, Dec 5th 2012

455
New Release of De-Mail for IBM Lotus Notes
Thu, Jan 17th 2013

435
New Version of OpenNTF's Designer Import Tool
Niklas Heidloff


In April we updated the import tool so that the complete databases are not always imported but only a subset of design elements, the ones needed for the actual control. This required contributors to create a so called importlist.xml file that defines a list of design elements. Thank you Mark Leusink, Paul Withers, Martin Meijer and Fredrik Norling for having done this.

We understand however that we cannot ask all control contributors to add this file to their new releases. That's why my colleague Yi Guo has extended the import tool. If an OpenNTF release (zip file) contains an importlist.xml file it is used. If not the import tool tries to read that file from the OpenNTF catalog (cleared releases). This enables OpenNTF committers to create these files rather than asking all OpenNTF contributors to produce them.

The other extension is that there is now a new checkbox 'import unit tests' so that users can define whether they only want to import the core control (e.g. custom control) or also unit tests/samples (e.g. XPages).




At this point only two controls show up in the import tool. We removed temporarily the controls which didn't use the importlist.xml file yet and which didn't differentiate between core control design elements vs. unit tests design elements.

With the new functionality available now we hope that we can soon add more controls to the import tool. If you want to help producing these files please contact me. The export tool now allows defining the core design elements and the test design elements.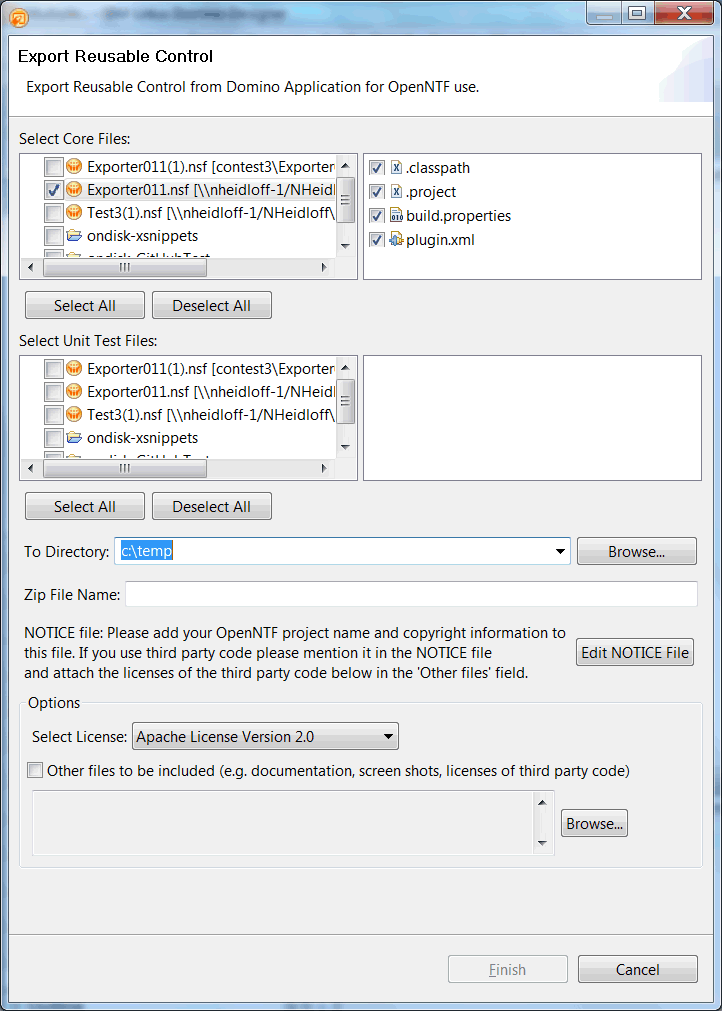 In order to use the new version drag this extension.xml file and drop it onto your My Widgets sidebar panel.



---------------------
http://www.openntf.org/blogs/openntf.nsf/d6plinks/NHEF-8VTDEC
Jul 02, 2012
142 hits




Recent Blog Posts
107



On OpenNTF: Android App for IBM Domino Discussion Applications
Tue, May 21st 2013 3:07a Niklas Heidloff
As part of the XPages development contest sponsored by WebGate Consulting AG which is part of the Appathon sponsored by IBM developerWorks, Jens Bruntt has contributed a project called DomDisc for Android. The project contains a native Android app that allows access from Android based smartphones and tablets to Domino discussion applications. The project uses the Domino Data Services to replicate the data so that the app can even be used offline. You can try the app by inst [read] Keywords: domino ibm xpages application applications archive consulting development google openntf
170



On OpenNTF: XPages Document Locker Managed Bean
Fri, May 17th 2013 12:40a Niklas Heidloff
As part of the XPages development contest sponsored by WebGate Consulting AG which is part of the Appathon sponsored by IBM developerWorks, Fredrik Norling has contributed a project called XPage Document Locker. The project includes a managed bean with methods to lock and unlock documents. The mechanism works if all users access the same replica. The documents are not physically locked but instead a programming convention is used to check whether documents are locked before some [read] Keywords: ibm xpages consulting development openntf
154



On OpenNTF: Extended FilteringSelected XPages Control
Thu, May 16th 2013 3:10a Niklas Heidloff
As part of the XPages development contest sponsored by WebGate Consulting AG which is part of the Appathon sponsored by IBM developerWorks, Ferry Kranenburg has contributed a project called XPages FilteringSelected Extended. The project includes a control which extends the FilteringSelected control which comes with the XPages Extension Library. Watch the video to see the control in action. Below is Ferry's description: "This widget adds some nice features to the dojo Filt [read] Keywords: ibm xpages consulting development dojo openntf widget
128



Interview with Bruce Elgort about OpenNTF
Mon, May 13th 2013 1:44a Niklas Heidloff
Celia Hamilton from socialbiz User Group interviewed Bruce Elgort, the chair of OpenNTF, about several OpenNTF related topics. Listen to the podcast. Celia's description: "Bruce Elgort called in to SocialBiz to discuss his work with OpenNTF.org, XSnippets.info, Collaboration Today, and XPages.info. Take a listen to find out what Bruce's favorite XSnippet is and which XSnippets are the most popular overall. Also, get info from Bruce on OpenNTF.org's Appathon contest that is [read] Keywords: collaboration connections ibm xpages openntf podcast
134



OpenNTF Webinar Replay has been published
Wed, May 8th 2013 12:54a Niklas Heidloff
Thanks to everyone who attended our first webinar "OpenNTF - The IBM Collaboration Solutions App Dev Community" yesterday. If you missed it, you can watch the video, listen to the audio or read the slides. On 06/03/13 David Leedy and Mark Roden will present in the next webinar "Get Started with XPages". Don't miss it! [read] Keywords: collaboration ibm ntf xpages community openntf twitter
274



New Release of the Trouble Ticket Application
Tue, May 7th 2013 1:31a Niklas Heidloff
In my IBM Connect session I used a trouble ticket application as example to show how to access IBM Connections from XPages and to show how to put XPages in the Embedded Experience in Connections, Notes and iNotes. My colleague Yun Zhi Lin has now created an open source version of this application and documented how to set up it up. There is a version for IBM Domino 8.5.3 and another one for 9.0 which uses the new 'send mail' action. Both versions use the XPages Social Enabler which comes w [read] Keywords: connections domino ibm inotes notes xpages application openntf
249



On OpenNTF: Dynamically compiled XPages
Tue, May 7th 2013 12:18a Niklas Heidloff
Philippe Riand has published a new version of the XPages Bazaar which includes functionality to execute XPages that have been developed outside of IBM Domino Designer. Below is Phil's description. "This release features a new capability that will make my fellow hackers curious: the ability to dynamically compile Java code on the server, and inject the resulting class in a classloader. Then you follow me, it is the foundation for dynamic pages, including XPages. It even provides a [read] Keywords: domino ibm xpages java openntf server





197



Attend the first OpenNTF Webinar on Tuesday
Mon, May 6th 2013 12:16a Niklas Heidloff
On Tuesday 05/07 at 10:00 AM EST the first OpenNTF webinar will take place where we'll describe OpenNTF itself. Find the meeting information on http://webinars.openntf.org. No registration is required. Agenda: 1. Welcome 2. OpenNTF Overview 3. XSnippets 4. Collaboration Today and XPages.info 5. Contests 5a. Demo: Forms'n Views 6. Intellectual Property 7. Get engaged [read] Keywords: collaboration xpages openntf
179



Participate in the IBM Connections App Dev Contest and leverage Connections Test Environments
Fri, May 3rd 2013 12:03a Niklas Heidloff
OpenNTF is hosting an IBM Connections app dev contest with five $1000 prizes. You can submit your open source code until June 23th. Developers who'd like to participate and don't have their own on-premises IBM Connections installation can leverage different development environments. The contest website describes these different options. We've just updated the website with a new option that has been available since the beginning of this week. Developers can now have their own [read] Keywords: collaboration connections domino ibm lotus applications development openntf
257



On OpenNTF: Calendar Service for IBM Domino
Thu, May 2nd 2013 1:42a Niklas Heidloff
The latest release of the XPages Extension Library contains the first version of the calendar service (REST API) for IBM Domino 9.0. Dave Delay and the Domino REST services team have posted the documentation and are asking for feedback. Below is a short introduction of the new service. "The Domino calendar service is now included in the extension library. The calendar service represents calendar data in both JSON and iCalendar formats. The calendar service lets you send HTTP reque [read] Keywords: domino ibm xpages openntf