Latest 7 Posts
Updates To OpenNTF Website Content
Thu, Nov 30th 2017

32
OpenNTF on Twitter
Fri, Nov 17th 2017

5
OpenCode4Connections Contest Winners
Thu, Oct 19th 2017

5
OpenNTF Board of Directors
Thu, Sep 28th 2017

6
Say hello to "OpenCode4Connections.org"
Thu, Sep 14th 2017

11
OpenNTF Board of Directors - Call for Nominations
Wed, Aug 23rd 2017

4
Social SDK - Bring it to the next stage
Mon, Apr 3rd 2017

4
Top 10
Updates To OpenNTF Website Content
Thu, Nov 30th 2017

32
XPages RDBMS Support - Recent Improvements
Thu, Aug 21st 2014

13
Say hello to "OpenCode4Connections.org"
Thu, Sep 14th 2017

11
Project Spotlight: JsonBeanX and Jackson4XPages
Mon, Apr 18th 2016

10
The OpenNTF Vote is next week!
Tue, Sep 16th 2014

9
Welcome TLCC!
Fri, Sep 18th 2015

9
Contributor Elections
Mon, Sep 26th 2016

9
On OpenNTF: Agendas for Meeting Rooms displayed in front of the Rooms
Tue, Apr 8th 2014

8
Learn, share and collaborate - The monday at IBM Connect is YOUR Day
Mon, Jan 16th 2017

8
Overview of the XPages Scaffolding Project on OpenNTF
Thu, Mar 20th 2014

7
On OpenNTF: Agendas for Meeting Rooms displayed in front of the Rooms

Niklas Heidloff

Itay Cohen, Boaz Mizrachi, Yaniv Agam and Asher Chen have contributed a new project, called Resource Agenda Presenter. Here is their description:

"The RAP application is a system which works in collaboration with the Rooms & Resources application and supplies an on-line rooms/resource agenda on displays located next to the room/resource and includes the time of event, event owner and event subject (can be disabled). The system is an HTML based and therefore supports any OS using any internet browser. In addition, the RAP system includes the following features:

- Sending instant messages to each resource display individually
- Dynamically create multi resources view on a single display (1,2,3 or 4)
- Sending an agenda for a specific event to each resource display individually"

Read the documentation for details. The screenshots below show a sample display showing the agenda for two rooms.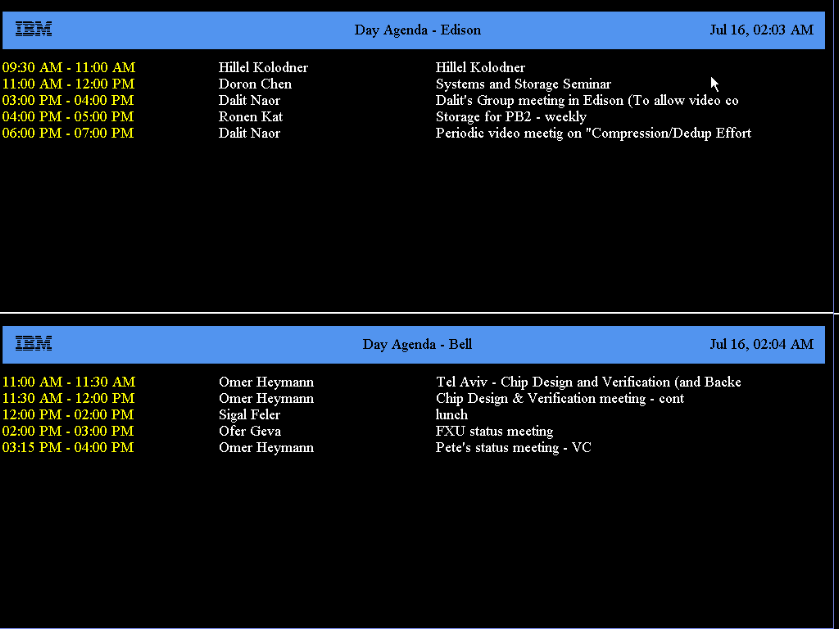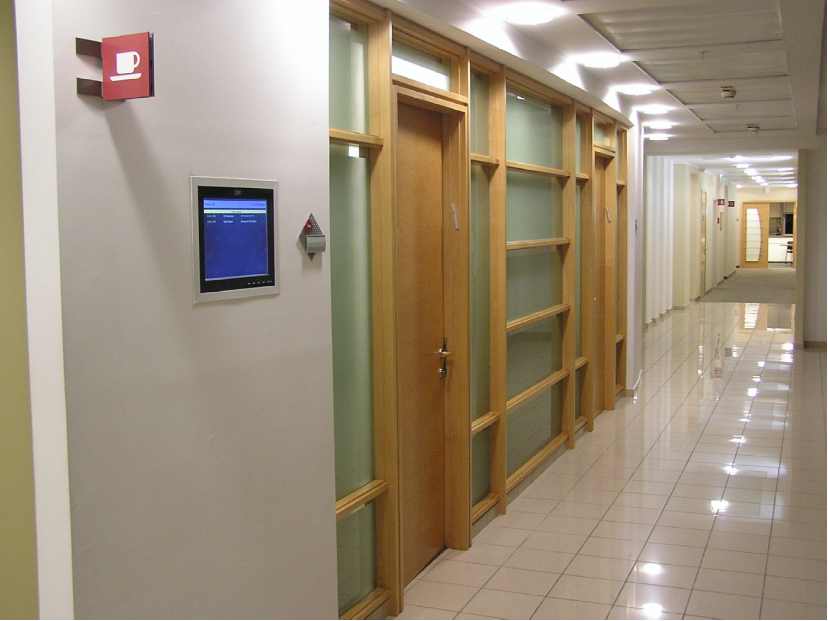 ---------------------
http://www.openntf.org/blogs/openntf.nsf/d6plinks/NHEF-9HY9CU
Apr 08, 2014
9 hits




Recent Blog Posts
32

Updates To OpenNTF Website Content
Thu, Nov 30th 2017 7:34p Paul Withers
Today we pushed up some changes to the OpenNTF website. The previous area "IP and Legal" has been split down into "IP" and "Legal". The Legal area covers legalistic documents for aspects such as our bylaws, IP policy, privacy policy etc. If you're looking for practical content about the IP process and how to apply it, you should look instead at the IP area. A lot of the content here has been restructured or slightly reworded to better explain why we do it, why you want us to do it,
5

OpenNTF on Twitter
Fri, Nov 17th 2017 1:24p Paul Withers
When the free non-production Domino server license was launched on developerWorks earlier this year, it brought that area of developerWorks to the conscious awareness for possibly the first time. I looked at the "Communities" sub-page and, in particular, the "Social" area near the bottom on the right. That highlighted that there were Twitter feeds being publicised that were not being maintained. That needed addressing. CollaborationToday has a team curating the content that appea
5

OpenCode4Connections Contest Winners
Thu, Oct 19th 2017 11:18a Paul Withers
Earlier this week, at Social Connections, we announced the winners of the OpenCode4Connections IBM Connections Customizer contest. To support the contest there was a great amount of effort from Christian Guedemann, Martin Donnelly and others to set up the infrastructure and enablement materials to help ensure the contest was a success. Even though the contest only ran for a short period of time, the numbers were impressive: - over 40 organisations were provisioned by IBM during the p
6

OpenNTF Board of Directors
Thu, Sep 28th 2017 5:00p Paul Withers
The new OpenNTF board has been elected by acclamation. The following have been elected Member Directors, returned for two years: Martin Donnelly - IBM Paul Withers - Intec Systems Ltd Oliver Busse - We4IT Nathan T Freeman - Red Pill Now They join the Member Directors elected last year, who have one year left on their term: Serdar Basegmez, Developi Information Systems Adam Foster, Oval Jesse Gallagher, I Know Some Guys Christian Güdemann, Webgate Dougla
11

Say hello to "OpenCode4Connections.org"
Thu, Sep 14th 2017 4:23p Christian Guedemann
We at OpenNTF.org are excited to launch our new brand - OpenCode4Connections.org. OpenNTF has a proven track history in building open source communities around interesting technologies and products, e.g. it was the incubinator for the success of XPages. But let us welcome our newest member: OpenCode4Connections.org The intention behind OpenCode4Connections.org is a very simple and short story! IBM Connections deserves a dedicated place where the Open Source Community can meet and co
4

OpenNTF Board of Directors - Call for Nominations
Wed, Aug 23rd 2017 7:18p Paul Withers
It's the time of year when we invite anyone interested in participating in OpenNTF's Board of Directors to submit their names to ip-manager at openntf.org. Employees of member organizations may be nominated as a Member Director – with a two-year term. There are four such board positions open for election. Contributors may be nominated as a Contributor Director – with a one year term. There are three such board positions open for election. The terms of fou
4

Social SDK - Bring it to the next stage
Mon, Apr 3rd 2017 4:04p Christian Guedemann
The big intention of IBM's Social Business Tookit was to make the IBM Connections API easy to consume from any Web / Java platform. And it still is! But how to proceed with the Social SDK in the time of Connections Pink? It seems to be the right moment, for IBM and the OpenNTF community to join forces and bring the Social SDK to the next stage. The community has already moved on with the SocialSDK for bugfixes and also enhancements. But now it's time to make the SocialSDK ready for
3

OpenAPI Specifications for Freebusy and Calendar available on OpenNTF's Github account and SmartNSF Beta 2 released
Sat, Mar 11th 2017 2:22p Christian Guedemann
The application development landscape of today's world is completely upside-down. While in the past a platform has to integrate all and should consume open standards, in today's world a platform should be capable of being integrated everywhere and providing open standards. This shift is a logical consequence of the new paradigms of microservices and microservice-oriented architecture. While the previous times an application development platform had to provide as many services as possibl
0

The winners of the IBM & OpenNTF Hackathon 2017 @IBM Connect
Fri, Feb 24th 2017 2:53p Christian Guedemann
Thanks Alan Hamilton for producing and sharing this:
6

Hackathon 2017 - A Unique Opportunity
Sat, Feb 4th 2017 2:12p Christian Guedemann
Dear friends, In only 2 weeks, we will do something that I was afraid to even dream of. After holding the ICS Developer Competition in 2016, we will hold the IBM and OpenNTF Hackathon @ IBM Connect 2017. Two weeks before the Hackathon, we have already achieved all of our targets: the type audience that we are and also the target numbers - 50 attendees two weeks before was our vision. We have nine really attractive projects with great project leaders (yes, they are really great!). We h