Latest 7 Posts
Deep Dive into Social Business Toolkit with XPages: The Box Integration (1)
Mon, Sep 15th 2014

143
XPages Tip: Realizing the Cost of a Value Binding...
Mon, Sep 8th 2014

82
Mini Patterns for XPages: Using Beans for Parent - Child Documents
Mon, Sep 1st 2014

76
Changing URL in File Download Control...
Wed, Jun 25th 2014

86
A Quick Question for Administrators...
Tue, Jun 10th 2014

64
RIP Tim Tripcony...
Mon, May 12th 2014

81
E-mail will be dead... For some people...
Sat, Feb 22nd 2014

150
Top 10
E-mail will be dead... For some people...
Sat, Feb 22nd 2014

150
Deep Dive into Social Business Toolkit with XPages: The Box Integration (1)
Mon, Sep 15th 2014

143
Mystery Solved: "Error loading USE or USELSX module"
Mon, Nov 21st 2011

137
A little story about an error with ID Vault...
Wed, Jan 12th 2011

110
Still part of it: IBM Champions
Fri, Dec 6th 2013

102
Authenticating Notes users for Web apps automatically...
Wed, May 11th 2011

98
Changing URL in File Download Control...
Wed, Jun 25th 2014

86
XPages Tip: Realizing the Cost of a Value Binding...
Mon, Sep 8th 2014

82
RIP Tim Tripcony...
Mon, May 12th 2014

81
IBM Connect 2014 slidedeck on the IBM Social Business Toolkit SDK
Thu, Feb 6th 2014

76
OpenSearch functionality for XPages.info...
Serdar Basegmez

Today we have added a very simple feature to XPages.info site. It provides an integrated search functionality to be used with browsers.

Here how to use it:

For Chrome:

1. Open xpages.info site once.
2. Close your browser, reopen and at the address bar, start writing "xpages". Depending on how frequent you are using xpages.info, it will suggest the address in the bar. For me, "x" character is enough :)





3. Now you see a new instruction in the address bar: "Press Tab to search XPages". Do what it says :)





4. Press enter to see the search results related with your keyword:





For Firefox:

1. Open xpages.info site.
2. Open Search Engine alternatives on the right and click "Add XPages.info" option.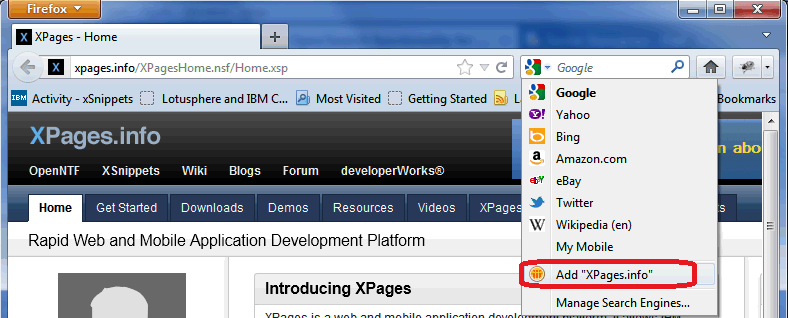 3. Now XPages.info has been added to Firefox registered search engines. To use it more practically, Click "Manage Search Engines" here.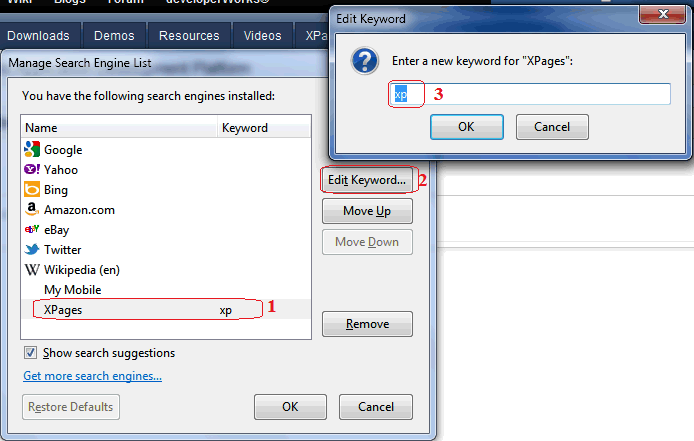 4. Select our search engine, click "Edit Keywords" and enter a new keyword like "xp" here. Click OK to close this dialog.

5. Now go to a new window and enter "xp dynamic content" into the address bar... Voila!

I couldn't find a similar way to do this in Internet Explorer 9. If you know, please comment :)

How we did it?

It's pretty easy! You need to add two things to your database. First an XML file definition for opensearch:


<OpenSearchDescription xmlns="http://a9.com/-/spec/opensearch/1.1/" xmlns:moz="http://www.mozilla.org/2006/browser/search/"> 
<ShortName>XPages</ShortName> 
<Description>XPages.info Search</Description> 
<InputEncoding>UTF-8</InputEncoding> 
<Url type="text/html" method="get" template="http://xpages.info/XPagesHome.nsf/SearchResults.xsp?search={searchTerms}"/> 
</OpenSearchDescription>


You can also add some more properties here such as an icon to show in the search engine listing.

We put this xml files into File Resources section of our database. Then we added a resource definition into the HEAD section of our home page:





That's all!

Now I have two To-Do's for myself. I'll try to extend search functionality of XPages.info to provide single point of search for XPages-specific information.

The second To-Do is adding this to XSnippets. I noticed that searching snippets is not practical in the current situation.

OpenSearch provides much more possibilities than this. You can visit OpenSearch.org for more information...



---------------------
http://lotusnotus.com/lotusnotus_en.nsf/dx/opensearch-functionality-for-xpages.info....htm
Apr 16, 2012
44 hits




Recent Blog Posts
143



Deep Dive into Social Business Toolkit with XPages: The Box Integration (1)
Mon, Sep 15th 2014 7:12a Serdar Basegmez
I have been working on IBM Social Business Toolkit SDK for a long time. Last year we have introduced a couple of cool demos on IBM Connect with my friend Graham Acres. One example was the XPages integration with Basecamp. It has been on my to-do list for months to blog more details on this topic. Finally, here I am... This is going to be a series of blog post. What I'm planning is to blog about a basic example that integrates XPages applications with one or more cloud-based services for [read] Keywords: connections domino ibm xpages application applications database development integration interface java javascript openntf password properties security server twitter widget widgets xml
82



XPages Tip: Realizing the Cost of a Value Binding...
Mon, Sep 8th 2014 2:06a Serdar Basegmez
A little tip on XPages development... We are binding values everywhere on our pages. Are you optimizing the way you use them? Basic value binding is straight forward. If you use a data source, scope variable or any other property/map/list object from your bean, etc, you are good. However if you 'compute' something to get a value, that computation has a processor and a memory cost. Let's see an example here. Consider the following code, where we want to get some input via a combobo [read] Keywords: dblookup domino xpages application development java javascript openntf
76



Mini Patterns for XPages: Using Beans for Parent - Child Documents
Mon, Sep 1st 2014 6:11a Serdar Basegmez
After a looong time, I'm blogging XPages again :) Last time, I was blogging about mini patterns (this and that). These are partly reusable design patterns for common cases. Today I'd like to introduce a simple pattern which I have been using in a couple of applications. This is also an example how you get benefits from Managed Beans for specific purposes. Let's start. Data Model for Parent-Child Documents This is a very common case for Domino applications. There is a main docu [read] Keywords: domino notes xpages application applications blogging database development interface java mobile network openntf profile
86



Changing URL in File Download Control...
Wed, Jun 25th 2014 7:11a Serdar Basegmez
After a very long period of silence, here I am with a tiny little trick about File Download Control in XPages. I saw that there are lots of questions about this component, related to showing attachments instead of downloading them. Stephen Wissel explained how to build a download url with the XPages syntax. The old style notation (which DOES NOT work in XPiNC): http(s)://[yourserver]/[application.nsf]/[viewname|0]/[UNID| ViewKey]/$File/[Attachm [read] Keywords: domino ibm ldd lotus notes xpages application database development javascript server
64



A Quick Question for Administrators...
Tue, Jun 10th 2014 6:14a Serdar Basegmez
Just a quick question. Especially large domains have lots of users with the same full name. In modern directory systems, we can decrease the possibility of conflict by using hierarchical naming, however that will become an issue eventually, when you need to specify an e-mail address. I have seen that adding a number to the first or last name (John Smith , John 1 Smith, etc.) is highly popular. How do you handle people with the same name in your environment (e.g. Domino, AD, Connections, et [read] Keywords: connections domino lotus
81



RIP Tim Tripcony...
Mon, May 12th 2014 1:55p Serdar Basegmez
As many friends around, we are shocked and deeply saddened by unexpected loss of our own Tim Tripcony. Tim Tripcony was one of the most talented developers I have met... He inspired all of us by challenging all kinds of limits in our platform and finding really elegant patterns in various problems. He was always polite, helpful and positive with people. RIP, my friend. You'll be missed a lot. [read] Keywords:





150



E-mail will be dead... For some people...
Sat, Feb 22nd 2014 5:14a Serdar Basegmez
Just an off-topic post, but can't help blogging about that. We are having bad times in our country. Summaries in English can be found here, here and here. Last two incidents are strongly related to very social context of our information and technology domain... Welcome to the remake of Orwell's 1984... The first is the change in the "Internet Bill", legal changes around monitoring and censorship. According to the bill, a government official, head of Turkey's telecommunication autho [read] Keywords: ibm blogging network
76



IBM Connect 2014 slidedeck on the IBM Social Business Toolkit SDK
Thu, Feb 6th 2014 10:14a Serdar Basegmez
It's been a week after my session with Graham Acres. Sorry about the delay but we needed some time to prepare demo databases... Here is the slidedeck: And demo databases: https://github.com/sbasegmez/ic14demos [read] Keywords: ibm development
60



BP308 - The Journey to Becoming a Social Application Developer
Tue, Jan 21st 2014 5:09a Serdar Basegmez
This is going to be my third IBM Connect and second session. Excited! Last year, my session co-presenter was my dear friend Bruce Elgort. I feel privileged this year again, because I am sharing the stage with a great speaker, Graham Acres... The session is all about the IBM Social Business Toolkit SDK, which has been first announced at Lotusphere 2011. After three years, we will see much more content about it this year. Since first hearing about the toolkit, I had trouble under [read] Keywords: connections domino ibm lotusphere notes xpages application applications integration java javascript openntf twitter
61



My previous blog post was 'Hot'!
Sat, Dec 7th 2013 2:47a Serdar Basegmez
Yesterday, I have blogged about the renewal of my IBM Champion title. This morning I woke up with lots of notifications on my mobile. Apparently, my dear friend Bruce liked my blog post very much and he has posted it everywhere (Twitter, Facebook, Linkedin Google Plus). The real surprise was on PlanetLotus waiting for me :) Wow! I must be really famous and people want to know about my happiness. Thank you all! :) OK I'm joking. Many of you know it but for those who are not aware of [read] Keywords: ibm database facebook google linkedin mobile planetlotus twitter